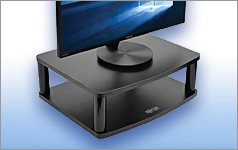 The risers' storage spaces help reduce desktop clutter, add organization and bring a bit of style to the desktop.
Chicago, IL (PRWEB) March 09, 2017
Tripp Lite, a world-leading manufacturer of power protection and connectivity solutions, has expanded its line of monitor risers designed to help users ease neck and eye strain, free up valuable space and add style to workstations.
The new risers put a monitor or small television at an optimal viewing height and assemble easily in seconds. Each riser features space below the top surface for storing office necessities, creating a better-organized desktop. The risers can also be used to elevate laptops, printers and fax machines, with convenient storage below for accessories.
New Monitor Risers
Learn More
MR1815SWVL Two-Shelf Swivel Riser
Download Product Images
Key Features of Tripp Lite's New Monitor Risers

Model MR2208G features a 22W x 8.27"D tempered glass platform that supports up to 40 lb.; contemporary brushed aluminum legs elevate the platform 3 inches above the desktop
The MR1815SWVL swivels a full 360 degrees and provides two extra-large wooden shelves measuring 18.1W x 15.3"D that support up to 88 lb.; one shelf sits 6 inches above the other, allowing plenty of storage space
With its built-in storage drawer, the MR1612D1 provides at-your-fingertips access to coins, paper clips, pens and papers; segmented leg risers can be installed individually or combined to raise the platform 2.5 inches or 4.7 inches above the work surface; the platform measures 11.97W x 15.75"D and has a 40 lb. capacity
"These new monitor stands do more than simply improve ergonomics at the user's desk," said JoEllen Klein, Tripp Lite Product Manager. "The risers' storage spaces help reduce desktop clutter, add organization and bring a bit of style to the desktop."
For more information about Tripp Lite's complete line of monitor risers:
Model(s) Details
About Tripp Lite
Outstanding product reliability and exceptional service have been Tripp Lite trademarks for 95 years. Tripp Lite´s innovations include the world's first UPS system designed specifically for personal computers and the world's most trusted premium surge protector—the Isobar®—with more than 19 million in use. Tripp Lite maintains the highest level of ready-to-ship inventory in the industry with more than 3,500 different products, including UPS systems, rack systems and cooling solutions, PDUs, PowerAlert software for enterprise-level system management and control, surge protectors, KVM switches, cables and connectivity products, inverters, power strips and notebook accessories. Headquartered in Chicago, Illinois, Tripp Lite maintains a global presence with fully staffed offices worldwide. Additional information, including a list of Tripp Lite's sales offices and authorized reseller partners, can be found by visiting Tripp Lite's website: http://www.tripplite.com.