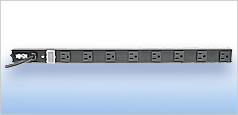 We're pleased to offer a new color choice for our top-selling power strips that can be mounted along a wall, under a workbench or counter, in a cabinet or as 0U power distribution in a rack
Chicago, IL (PRWEB) March 09, 2017
Tripp Lite, a world-leading manufacturer of power protection and connectivity solutions, has introduced three popular sizes of vertical power strips with a black anodized finish. The sleek black finish adds a polished appearance to installations where the connected equipment is primarily black.
Unlike many other black power strips on the market, each new model features black outlets as well as a black housing, ensuring the overall look of the installation will be professional and cohesive. The new models are available in a 24" model with 8 outlets, a 36" model with 12 outlets or a 48" model with 16 outlets to accommodate multiple electronic devices, appliances, displays, tools, lighting fixtures or other electrical equipment.
New Vertical Power Strips
Key Features of Tripp Lite's New Black Power Strips
•15 ft. cord provides ample length to reach a distant outlet, so power is delivered where it's needed; the cord has a NEMA 5-15P plug
•Wide spacing of outlets allows room for transformers and AC adapters
•15-amp resettable circuit breaker prevents overload
•Lighted on/off switch conveniently controls power to all outlets; a transparent cover prevents accidental shut-off
•Mounting clips allow for easy installation in vertical or horizontal orientations
"We're pleased to offer a new color choice for our top-selling power strips that can be mounted along a wall, under a workbench or counter, in a cabinet or as 0U power distribution in a rack," said Karenann Brow, Tripp Lite Director of Product Marketing. "And just as with our popular silver-colored power strips, the user gets reliable power distribution, backed by a lifetime warranty."
For more information about Tripp Lite's complete line of display mounts:
About Tripp Lite
Outstanding product reliability and exceptional service have been Tripp Lite trademarks for over 90 years. Tripp Lite´s innovations include the world's first UPS system designed specifically for personal computers and the world's most trusted premium surge protector—the Isobar®—with more than 19 million in use. Tripp Lite maintains the highest level of ready-to-ship inventory in the industry with more than 3,500 different products, including UPS systems, rack systems and cooling solutions, PDUs, PowerAlert software for enterprise-level system management and control, surge protectors, KVM switches, cables and connectivity products, inverters, power strips and notebook accessories. Headquartered in Chicago, Illinois, Tripp Lite maintains a global presence with fully staffed offices worldwide. Additional information, including a list of Tripp Lite's sales offices and authorized reseller partners, can be found by visiting Tripp Lite's website: http://www.tripplite.com.
Find us on Facebook Follow us on Twitter Find us on LinkedIn Google+ See us on YouTube