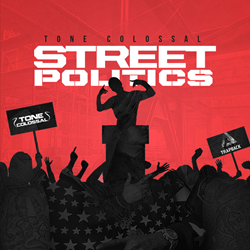 Miami, FL (PRWEB) March 24, 2017
Tone is a talented musician in his own right as well as a music producer and artist manager. He was born and raised in the beautiful city of Miami, FL and enjoys a loving relationship with his family, friends and fans. Tone's passion for music began early in childhood, his nickname given to him by friends since he always had headphones on his ear. Tone is a business guru, managing unique sound producers in the Hip-hop, EDM and Latin world. Tone over the years has developed to bring his unique sound from the streets of Miami. He is able to do this with the constant support from local scene as well as an international fan base. Tone's deep interest politics and the current climate in America today inspired him to write and release his first single, "Street Politics," off his highly anticipated mixtape, featuring production by Jay Lucas and Cypher beats. Tone is committed to his fans and promises to deliver new sounds in the coming month. Tone is adventurous, traveling to find new sounds and talent all over the world. They call his movement "Tone is Music" and its picking up rapidly in a worldwide audience.
Thew new track is currently available to stream and download on Coast 2 Coast Mixtapes.
About Coast 2 Coast Mixtapes:
Coast 2 Coast Mixtapes are the most widely distributed mixtapes in the world, with over 100 million downloads/plays generated by over 300 volumes officially hosted by major artists. Coast 2 Coast has a solid reach in the new music industry with a digital magazine, DJ coalition, industry tips blog, yearly convention, and more. Coast 2 Coast Mixtapes represents a unique opportunity for artists of all urban genres, from major to indie. For more information, visit http://www.coast2coastmixtapes.com