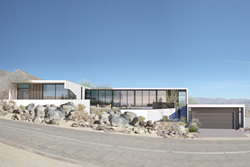 With the 2017 Palm Springs Idea House, we're creating a modernist gem.
Oakland, CA (PRWEB) March 14, 2017
Time Inc.'s Sunset, the leading lifestyle brand in the West, announced today that it will build its 2017 Idea House in the Chino Canyon neighborhood of Palm Springs. The home will be built by Palm Springs-based Better Built Inc. and designed by award-winning o2 Architecture. LA-based 30 Collins will work closely with Sunset's editors to bring the home's interiors to life. For more information about the 2017 Sunset Idea House, including updates from the designers and links to Pinterest inspiration boards, go to http://www.sunset.com/ideahouse.
Sunset's expert design and construction team will create the ultimate Palm Springs residence that embodies the indoor-outdoor lifestyle that Sunset is best known for. The 3,750 square-foot 4-bedroom, 4.5-bathroom modernist home will be nestled into the surrounding desert hillside and will feature a soft and sophisticated palette and warm, natural materials and finishes. Elements of glamor and subtle luxury nod to Palm Springs' history as Hollywood's playground. The latest in smart home technologies will be integrated both inside and out the home.
"Palm Springs is home to many of the West's most iconic Midcentury Modern architectural masterpieces and has long been a mecca for superior home design," said Irene Edwards, Sunset Editor-in-Chief. "With the 2017 Palm Springs Idea House, we're creating a modernist gem. We hope design lovers will visit the Idea House this fall while taking advantage of all the nightlife, culture and outdoor adventure Palm Springs has to offer."
The 2017 Idea House, which will be featured in the November 2017 issue of Sunset magazine, will open to the public for eight weeks, Fridays through Sundays from October 6 until November 26. Additionally, the Palm Springs Idea House will be open for tours and special programming during the Modernism Week Fall Preview, October 20-22.
Since 1998, Sunset has built Idea Houses and Dream Remodels throughout the West that bring the brand to life and showcase the latest innovations in architecture, construction, design, and sustainable building and gardening practices.
Sponsors of the Sunset Idea House include ATGStores.com, AZEK Building Products, Belgard, DXV American Standard, James Hardie, Lamps Plus and Western Window Systems.
Stay up-to-date on the Sunset Idea House by liking Sunset on Facebook (http://www.facebook.com/sunsetmagazine), following @Sunset on Twitter, and @Sunsetmag Instagram and Pinterest #sunsetideahouse. Or, go to http://www.sunset.com/ideahouse for more details.
About Sunset
Time Inc.'s Sunset (http://www.sunset.com) is the leading lifestyle brand in the West. Through magazines and books, events and experiences, and digital and social media, Sunset covers the West's best flavors, destinations, design trends, and innovations. Sunset engages and inspires an audience of over five million educated, active and affluent consumers every month through its five regional print editions—Pacific Northwest, Northern California, Southern California, Southwest and Mountain—as well as via all tablet devices and its website. In addition to its print and digital publications, Sunset showcases the region's unique lifestyle and noteworthy destinations through its flagship events, established home programs, licensing partnerships, books and International Wine Competition.