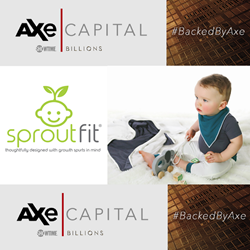 SproutFit baby clothes are changing the clothing game forever.
Boise, Idaho (PRWEB) March 14, 2017
Showtime's hit drama Billions is rooted in entrepreneurially fervor and controversy as hedge fund billionaire Bobby "Axe" Axelrod both ignites and excites. His company, Axe Capital, is known for being the biggest and best on Wall Street, and they never miss the opportunity to be an early adopter investing in big ideas.
Ingeniously, Showtime used Kickstarter's crowdfunding platform and bridged Axe Capital's on-screen essence, producing real-life results for innovative startups.
"When I saw the message from 'Axe Capital' through a Kickstarter message, I thought it was a joke at first. But, then they pushed our 93% funded campaign to 100% -- they definitely put their money where their mouth was," says Whitney Sokol, founder and creative behind SproutFit.
It's not surprising that Axe Capital is interested in progressive companies like SproutFit.
Unapologetically challenging traditional size ranges, SproutFit is committed to creating sustainable, eco-friendly solutions for a less-is-more approach to childrenswear. This brand features smart, grow-with-me sizing that simplifies shopping and cuts out the monthly closet purge – less waste, less money spent, less time wasted.
Betty Rose Cortes for BreastfeedingWorld.org explains why SproutFit will be the best baby shower gift of the year saying, "SproutFit baby clothes are changing the clothing game forever."
SproutFit is accepting pre-orders through March 26th on their Kickstarter project page.