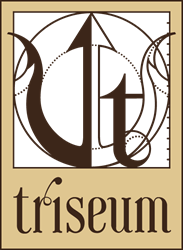 Triseum's game-based learning approach has proven to be an effective pathway to deliver a highly engaging, outcomes-driven learning experience," said McLaughlin.
Bryan, TX (PRWEB) March 10, 2017
Game-based learning innovator Triseum today announced that it signed a three-year deal with Texas A&M's Department of Visualization to integrate ARTé: Mecenas™, the company's immersive art history video game, across all of the school's art history survey courses. Texas A&M students have been piloting the game since its launch last summer, and based on their impressive knowledge gain, engagement levels and success rates, Texas A&M is broadening the game's access to 1500 students per year who are enrolled in art history both on campus and online.
"Our goal is to help more students not only learn about art, but understand the world in which works of art were created. Triseum's game-based learning approach has proven to be an effective pathway to deliver a highly engaging, outcomes-driven learning experience," said Tim McLaughlin, Department Head and Associate Professor, Department of Visualization, College of Architecture, Texas A&M University. "Through playing ARTé: Mecenas our students are driven to think more critically and connect with the content on a more profound level. What really resonates is their excitement for the game and their motivation to master the subject matter."
Triseum's growing list of new clients also includes the recent additions of the University of Texas at San Antonio, Lindenwood University and the University of North Texas, giving students access to ARTé: Mecenas to enhance their studies and improve learning outcomes.
ARTé: Mecenas transports students into the Renaissance era where they take on the role of a member of the merchant/banking Medici family. Students must balance relationships with powerful city-states, merchant factions and the Catholic Church to build and maintain a financial empire. According to Triseum's Fall 2016 research study, after playing ARTé: Mecenas for approximately two hours, students in the experimental group had a knowledge gain of 24.7 percent from pre- to post-test.
"ARTé: Mecenas gives students an opportunity to be more active learners, trying and applying the concepts they are learning in lectures for a deeper and more relevant understanding of the works of art, the time period and their interconnectedness," said André Thomas, CEO of Triseum. "This multi-year agreement with Texas A&M University is significant on many levels. It shows the commitment of the university's team to innovation in teaching and learning, it recognizes the collaboration of our two organizations and the incredible work we are producing, and it gives students the tools to learn in even more meaningful ways."
Triseum grew out of the Department of Visualization's LIVE Lab and continues to work closely with its faculty and students. The two have joined forces on game design, production and testing, as well as providing professional development opportunities to Texas A&M's students.
Triseum is attending the SXSW event in Austin this week with the Department of Visualization by its side to showcase its games. Triseum is also a finalist in the SXSW Accelerator Competition in the Entertainment and Content Technologies category, as well as a qualifier in the SXSW Gaming Pitch Competition.
About Triseum
Triseum grew out of the LIVE Lab in the Department of Visualization at Texas A&M University, which is why education will always remain at the heart of this gaming company. Since then, Triseum has partnered with industry leading experts in gaming and instructional design dedicated to building the highest quality educational video games. Creating world class digital experiences that profoundly impact students, Triseum's bold curiosity means pushing the boundaries of what educational games are all about. For more information, please visit http://www.triseum.com.
# # #