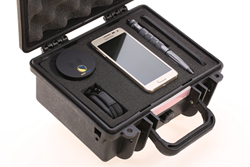 For years now Gold Line Group has been warning their clients and advising them to avoid off-the-shelf encrypted communication apps and commercial anti-virus software
International (PRWEB) March 11, 2017
In a recent interview, Andrew Grunstein, director of military cyber products at Gold Line Group (Israel) revealed that "The Wikileaks Vault7" leak exposed a staggering amount of ways to implant mass trojans on mobile phones and PCs, silently - without the owner of the device even noticing. In recent years we have had to fundamentally change the way we design security products for our clients."
Mr. Grunstein explains that most trojans exposed in the new leak have been well known to the company's security researchers. For years now Gold Line Group has been warning their clients and advising them to avoid off-the-shelf encrypted communication apps and commercial anti-virus software. These products generate a false sense of security in the users and contribute very little to their privacy.
What Gold Line Group researchers found is that attackers aren't trying to break encryption codes like they used to. The way they work now is by taking advantage of the open and social nature of people and their devices, manipulating them to accept trojans that are disguised as a friendly SMS, app or system update, and gaining access to the whole device that way.
Gold Line Group's transformative approach has been shutting down the open and social parts of devices completely. Their latest product - the Gold Lock Vault software was developed as a response to the new wave of trojans. What the Vault does is turn regular smartphones into completely bricked devices, incapable of doing anything except call and message securely.
"We decided to redesign mobile security from the bottom up." discloses Mr. Grunstein. "If you've shared a photo on Facebook, sent an SMS, received a snapchat, we consider the device to be breached. Today's cyber risks are so severe that we now aggressively shut down any part of the device that's not absolutely needed. We know this makes the phone useless for most people, but when you are dealing with the security of militaries, police forces, intelligence agencies, like we do, it's not a bad idea to separate your work phone from your social phone."
Gold Line Group (est. 2003) is a leading international provider of data security solutions. Since 2009 It holds $250,000 in unclaimed gold that was put up as a reward for any hackers, spies or intelligence agencies which could decipher a message encrypted by Gold Lock's mobile encryption.
Gold Line Group's products are used daily by government, military, as well as private organizations seeking the highest level of digital security. The company's highly trained experts walk the cutting edge of the rapidly changing world of cyber security threats and solutions.
Gold Line Group Ltd. (Israel)
Mobile Security Division
Corporate Headquarters
Tel: +972 8935 2335
Jabotinski 7, City Gates Tower
Ramat Gan, 52520, Israel