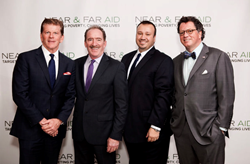 When we were introduced to the Near & Far Aid team, we found a committed organization whose positive contributions directly impact so many people in our community...we are humbled and honored to be selected for this award
Westport, CT (PRWEB) March 16, 2017
Coastal Bridge Advisors, an independent wealth management firm with approximately $2 billion in client assets announced today that it was recognized with the 2017 Community Compassion Award by Near & Far Aid, an all-volunteer fundraising and fund granting organization dedicated to eliminating the causes and effects of poverty in Fairfield County, CT.
Near & Far Aid presented the award to Coastal Bridge at its annual gala in Westport on March 3rd. The award recognizes and gives thanks for Coastal Bridge's many years of support to Near & Far Aid's mission of targeting poverty and changing lives in Fairfield County.
"The success of any philanthropic organization is directly tied to the passion and dedication of its volunteers," said Founding Partner of Coastal Bridge Advisors, Jim Pratt-Heaney. "When we were introduced to the Near & Far Aid team, we found a committed organization whose positive contributions directly impact so many people in our community. It has been a privilege to support their efforts, and we are humbled and honored to be selected for this award."
About Near & Far Aid and The Community Compassion Award:
Founded in 1954 in Southport, CT, the community-based charity has expanded from a small charity to a consortium of community leaders committed to targeting poverty and changing lives in Fairfield County, CT. The organization grants the Community Compassion Award annually to its partners in the business community who demonstrate a passion and commitment to bettering the lives of those in the community who need it most.
More information about Near & Far Aid can be found at http://nearandfaraid.org/
Photo credit to Neil Landino of Landino Photo
About Coastal Bridge Advisors:
Coastal Bridge Advisors is an independent Registered Investment Advisor offering a full range of wealth management and virtual family office services to discerning families across the country. From its offices in Westport, CT and Los Angeles, CA, Coastal Bridge provides its clients with sophisticated advice and highly personalized service. Through its collaborative approach, Coastal Bridge seeks to provide clarity and control for its clients, while developing and executing strategies which are designed to positively impact their financial well-being.
More information about the firm can be found at http://www.coastalbridgeadvisors.com