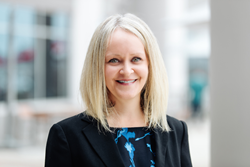 FORT MILL, S.C. (PRWEB) March 13, 2017
Movement Mortgage has hired Michelle Donnelly as its first chief commercial officer.
Donnelly, a Harvard Business School alum, will report to Chief Executive Casey Crawford and be responsible for helping the company achieve its business objectives, implement commercial strategy and continue to develop as an organization. She will be based out of Movement's National Sales Support Center in Fort Mill, S.C.
Donnelly brings 20 years of corporate leadership experience to her role. Prior to Movement she served in various sales, marketing, strategy and product development roles as a senior executive for a large pharmaceutical and biotech firm.
"What drew me to Movement was the amazing culture that has been created here," Donnelly said. "I look around and see an entrepreneurial and innovative spirit in teams of people working for something bigger than just themselves."
Movement Mortgage, founded in 2008, is one of the 10 largest purchase mortgage lenders in the U.S., focusing on an innovative mortgage process and a referable experience for real estate agents and borrowers. The company has been listed among Inc. Magazine's Fastest Growing Companies four times.
Movement strategically and systematically invests its profit into the nonprofit Movement Foundation, which has invested more than $27 million to date in schools, community centers, churches and other outreach nonprofits.
Donnelly lives in Charlotte, North Carolina with her husband, Bob, and two sons, 11-year-old Jack and 9-year-old Griffin.
###
About Movement Mortgage
Founded in 2008, Movement Mortgage exists to love and value people by leading a Movement of Change in its industry, corporate culture and communities. Movement is best known for its innovative mortgage process and referable experience, which begins with Upfront Underwriting and a seven-day loan processing goal. The company employs more than 4,000 people, has more than 500 branches in the U.S. spanning across 48 states. Its non-profit organization, The Movement Foundation, has reinvested more than $27 million in communities to date. For more information, visit http://www.movement.com.