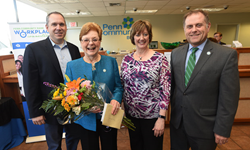 PERKASIE, Pa. (PRWEB) March 13, 2017
For decades, Pixie Bachtell worked to put families from Perkasie to Riegelsville into their first homes, their dream homes, their vacation homes or their retirement homes. While she now is heading off to enjoy her own retirement, Bachtell has ensured that her legacy of devotion to supporting homeownership remains unchanged by sharing her many years of mortgage lending expertise with her successor at Penn Community Bank, Melissa Thornton.
Based out of the bank's administration building on 9th Street in Perkasie, Thornton joined Penn Community Bank in November 2016. She will oversee mortgage lending for all of Perkasie, Riegelsville, and portions of other Upper Bucks County communities.
Thornton will assume oversight of those areas after Bachtell retires from her position as a mortgage lender at Penn Community Bank on March 15, after more than 20 years in the banking business.
"For years, Pixie has been a resource for countless families throughout Upper Bucks County as they embark on their homebuying experience. Her knowledge of the local area, her wisdom, and her expertise in mortgage lending have made what can be an intimidating experience a much smoother process for Bucks County residents looking for a home mortgage," said Penn Community Bank President and CEO Jeane M. Coyle.
A pillar in the Pennridge community, Virginia "Pixie" Hunsicker Bachtell joined what was then First Savings Bank of Perkasie in 1995. She held various roles throughout her time with the bank, and was the manager of the Market Street branch for several years before moving into residential lending.
"Few experiences are as rewarding as helping a family buy a home, which is often the largest, most important investment they will make," said Bachtell." To be able to work with so many wonderful people over the years is something I will never forget, and I am glad that Melissa has joined Penn Community Bank to carry on that legacy."
The daughter of former Perkasie Mayor J. Robert Hunsicker, Bachtell has been active for years throughout the Pennridge community, serving on a variety of boards and community organizations.
PHOTO CAPTION: Pixie Bachtell, second from left, is retiring from her role as a mortgage lender for Penn Community Bank after decades of supporting homeownership throughout Perkasie and Upper Bucks County. Congratulating her at a retirement party on March 3, 2017, at the bank's Market Street branch in Perkasie are, from left, Steve Murphy, Senior Vice President, Residential & Commercial Lending; President and CEO Jeane M. Coyle; and Executive Vice President, Chief Relationship Officer Todd R. Hurley.
About Penn Community Bank: Penn Community Bank holds more than $1.8 billion in assets and employs more than 300 people at 23 bank branches and two administrative centers throughout Bucks County, Pennsylvania. As an independent, mutual financial institution, Penn Community Bank is not publicly traded and operates with its long-term mission in mind: to help businesses grow and prosper, to support individuals and families throughout their lifetimes, to strengthen the local economy, and to partner with local organizations to act as a catalyst for positive growth in every market it serves.
# # #