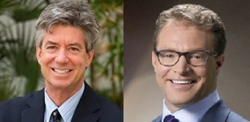 This goes to the heart of political differences between the two major parties.
Baltimore, Maryland (PRWEB) March 13, 2017
In recent years, economic inequality has become a hot topic among politicians, academics and media personalities. A debate has sprung up over whether or not America is truly a meritocracy.
Many experts believe that America still is a meritocracy - that the biggest determinants of a person's financial success are their work ethic, problem-solving skills and other personality traits. Among these experts is Alexander Green, Chief Investment Strategist at Investment U.
Others argue that our meritocracy is a myth. They believe that factors like upbringing and socioeconomic status have a stronger influence on a person's financial success than their personality. Some thinkers, such as Robert Frank of The New York Times, go so far as to argue that luck is the biggest influence on economic life outcomes.
Green sharply disagrees with Frank's opinion. And the two will air this disagreement in a debate at the upcoming FreedomFest conference in Las Vegas this coming July. The debate is still almost four months away, but Green has already started to explain his thesis in Investment U articles.
In a recent article, Green took an informal poll of his friends, family and neighbors. He asked them whether they agreed with Frank's thesis that luck plays more of a role in financial success than personality. His findings appeared to have strong partisan undertones.
"Self-described liberals and progressives tend to agree with Frank's thesis. Self-described conservatives and libertarians do not. This goes to the heart of political differences between the two major parties," Green wrote.
"We hear these thoughts echoed when Democrats argue for sharply higher taxes on 'the fortunate' or, in President Obama's phrase, 'society's lottery winners.' Republicans, on the other hand, often talk about 'personal responsibility' or how government social programs should be 'a trampoline not a hammock.'"
Despite the politicized nature of this debate, Green believes he can beat Frank with data-driven arguments rather than ideological ones. To that end, he wrote a second article in which he debunked many of Frank's talking points as anecdotal.
"[Frank] tells how Bill Gates had the good fortune as an eighth-grader in the late 1960s to attend one of the only private schools in the country that offered students unlimited access to computer programming terminals.
"And this explains Gates' $85.7 billion net worth? While that experience clearly benefited Gates, it hardly begins to explain his incredible business and financial success.
"Moreover, what happened to those other eighth-graders who had access to those terminals? Are they running Oracle and SAP today? Are they listed right below Gates on the Forbes 400? Of course not. Because the programming experience doesn't begin to explain Gates' fortune."
Green feels that Frank lacks evidence for his theory that American meritocracy is a myth. Nonetheless, he looks forward to debating him at the 10th annual FreedomFest conference this summer.
Green is a former Wall Street analyst with more than 20 years of experience as an investment advisor and financial writer. He has appeared on The O'Reilly Factor and has been profiled in The Wall Street Journal and Forbes, among others. Green is also the author of several national best-selling books on investing, including The Gone Fishin' Portfolio.
He is the Chief Investment Strategist of Investment U, a financial news and education newsletter with more than 400,000 subscribers.