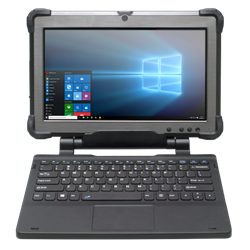 DT Research's rugged tablets provide a reliable mobile computing platform at a very affordable cost, we expect these latest DT tablet computers to be very well received among our budget-conscious tablet customers.
Chandler, AZ (PRWEB) March 14, 2017
Group Mobile, a rapidly expanding premiere provider of innovative, full service mobile technology solutions has expanded its product line to include four new rugged tablets from DT Research. DT Research is a leading designer and manufacturer of purpose-built computing solutions for vertical markets — their rapid time-to-market solutions leverage two decades of computer design and manufacturing experience.
"At Group Mobile, our mobile technology advisors have first-hand knowledge of specific vertical market applications where they work one-on-one with clients to enable these specific custom solutions to meet exact requirements for improved productivity, lowered TCO and return on investment," says Stephanie Kreitner, Executive Vice President of Group Mobile. "DT Research's rugged tablets provide a reliable mobile computing platform at a very affordable cost, we expect these latest DT tablet computers to be very well received among our budget-conscious tablet customers."
The four new DT Research rugged tablets now offered at Group Mobile include:

DT Research DT313 features the integration of a vibrant 13.3-inch capacitive touchscreen display, weighing in at under two pounds for a slim, durable, and highly-portable design. The DT313 rugged tablet offers seamless information capture for instant transmission on the sales room floor, classroom, and in the field — with built-in Wi-Fi and Bluetooth connection, as well as options for RFID reader, and front and back camera modules. For healthcare professionals, the DT313-MD model is available to configure — used as effective tools to monitor, record, and retrieve patient information. The DT313-MD is highly durable and made from easily sanitized, anti-microbial materials.
DT Research DT395CR features an 8.9-inch Full-HD screen with capacitive touch, Wi-Fi, and Bluetooth connection, as well as options for camera, barcode scanner, RFID reader, NFC module, and I/O ports. The DT Research DT395CR is available with the Microsoft Windows 10 IoT Enterprise operating system, and includes an Intel Atom Quad Core 1.44GHz processor, 4GB RAM, and a 64GB solid state drive with an option to upgrade to a 128GB SSD for extra storage. The DT395CR is rated IP65 and MIL-STD-810G to provide reliable operation in harsh, mission-critical environments. For those in search of a rugged tablet without a huge price point, the DT395 rugged tablet will offer custom features and complete protection from inevitable drops and spills at an excellent price.
DT Research DT301 is a two-in-one hybrid 10.1-inch tablet sporting a modern, sleek, and attractive design. The DT301S is built on the high performance, energy efficient Intel Core Celeron processor with optional upgrades to an Intel Core i5 or i7 processor. The DT301 is a true mobile solution with the ability to be used as a tablet or interchanged to a laptop for easy keyboard data input. Weighing under three pounds, the DT301 includes a full-slot Smart Card reader, hot swappable battery, Wi-Fi, and Bluetooth 4.0. The DT301 has a truly practical keyboard for easy data entry in the field, and all pertaining accessories are interchangeable with DT Research's line of two-in-one devices.
DT Research DT311 is a rugged two-in-one device purpose-built to protect utility, and energy companies, government and military agencies, first responders, and other field service organizations with removable encrypted data and camera security to guard against data loss or theft and unwanted image transmission. DT311 rugged tablet line includes a 6th generation Skylake CPU for high performance, increased screen brightness to 800 NITS for superior sunlight viewability, and a fanless design for increased durability. The DT311 includes an encrypted SD card slot that leverages software encryption from Windows 10 IoT Enterprise, and TPM 2.0 to secure data. Users can remove sensitive data in an encrypted format to avoid theft and loss of data if the tablet is misplaced or stolen. The DT311 hardware security options also include instant blackout, as well as automatic Bluetooth, RFID, and Wi-Fi disable functions that can be pre-configured to turn off all radio capabilities under certain conditions.
To learn more on DT Research tablets and to see the full product lineup Group Mobile offers visit: https://groupmobile.com/brands/dt-research.
About Group Mobile
Group Mobile, a wholly owned subsidiary of Form Holdings, headquartered in Phoenix, AZ, serves customers world-wide. Group Mobile is a rapidly expanding and growing and innovative full end-to-end solution provider of rugged mobile hardware, lifecycle services, system integration, hardware service support, pre-and post-deployment, break-fix, warranty repair, customer support helpdesk and more — all constructed to solve pressing problems and ensure our customers are receiving exceptional value, return on investment and a trusted long-lasting partnership. Group Mobile has mastered the true challenges of mobility through understanding the key elements required for a successful mobile deployment — hardware, connectivity, data and customer back-end network infrastructures. Visit http://www.groupmobile.com for more information.