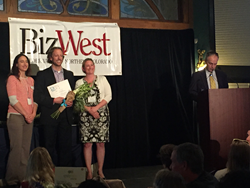 Longmont, Colo. (PRWEB) March 13, 2017
BizWest recently announced that VolkBell's Healthcare Strategist, Andy Neary, was recognized as one of Boulder Valley's Forty Under 40. The award honors the region's top 40 young professionals under the age of 40 who represent the best and brightest of emerging leaders that are making a difference in their companies, industries, and the community's future.
Neary is locally and nationally recognized as an innovator and disrupter within the healthcare industry. He has changed the discussion around health care for businesses, breaking the model and creating strategies for cost-containment and educational programs for his clients.. Neary has been published in various media outlets, including CFO.com, CoBiz Magazine, InsuranceThoughtLeadership.com, as well as other industry outlets.
"I have watched Andy develop an incredible entrepreneurial mindset over the past several years," praised Clair Volk, Owner and Partner at VolkBell. "He is constantly, learning and spending time with thought leaders around the country to better understand the healthcare industry. He is passionate about helping his clients reduce costs and better educate their employees."
Neary has made significant contributions since his arrival at VolkBell in 2014. He has spoken at our local SHRM chapters, as well as at the state-wide COSHRM conference, educating companies on how to change the way they are thinking about and approaching their benefits strategy. Many businesses are seeing the results of his message, as he hit 180% of his 2016 goal by helping more companies change their mindset and apply his methods.
VolkBell is one of the largest insurance and human resources consulting firms in Northern Colorado, offering products and services to help businesses navigate the ever-changing waters of employee benefits, wellness, HR, and P&C insurance. As a partner of United Benefits Advisors, VolkBell enjoys being a part of a network of independent employee benefit advisory firms that share best practices, tools and resources on a national level.
For more information, contact Tina Ramey at tramey(at)volkbell(dot)com or 303.776.3105 ext. 124.