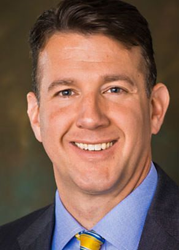 "He built Cicero Group from a scrappy startup into an industry leader in just a few short years, setting us on a long-term trajectory of success. This CEO of the Year honor recognizes the scale of his contribution to Cicero and to the state of Utah."
Salt Lake City, Utah (PRWEB) March 12, 2017
Cicero Group (http://www.cicerogroup.com), a premier data-driven strategy firm, announced that Founder and Chairman Randy Shumway will be named as the 2017 Utah Business CEO of the Year on Thursday, March 16th at the annual Utah Business Awards Ceremony in downtown Salt Lake City.
In 2001, Randy Shumway founded Cicero Group on the belief that business consulting could be accomplished better. By concentrating first on data to craft evidence-based strategies, and then on effective implementation of those strategies, Cicero would ensure organizations experienced the maximum benefit of recommendations.
And this focus has paid off. Cicero has grown over 30% annually since its inception and prides itself on driving transformative value for Fortune 2000 companies all over the world. Randy's vision has not only benefited clients all over the world, but has turned the company he started into an innovative powerhouse widely recognized as an industry leader.
In early 2017, Randy Shumway announced he would step down as CEO of Cicero Group, remaining as the Chair of the company's Board of Directors and as an actively engaged partner in the firm. This planned transfer of power reflects the selfless ethic of leadership still guiding Cicero Group today. "Randy has shaped the way Cicero treats clients and employees," says new Cicero CEO Dr. Trent Kaufman. "We talk a lot about The Cicero Way here at the company—over deliver, ease others' burdens, be solution-first—but in reality, it's the Randy Shumway Way. He built Cicero Group from a scrappy startup into an industry leader in just a few short years, setting us on a long-term trajectory of success. This CEO of the Year honor recognizes the scale of his contribution to Cicero and to the state of Utah."
About Cicero Group
Headquartered in Salt Lake City, Cicero Group is one of the world's premier data-driven strategy consulting firms. With over 350 employees, Cicero provides data-driven management consulting in 47 different countries and in 14 unique languages. Cicero's clients include some of the world's fastest growing and successful companies. These organizations rely on Cicero's ability to quickly capture and analyze internal, secondary, and primary data about their customers, competitors and potential new opportunities in order to solve critical business questions. For additional information, visit http://www.cicerogroup.com or call 801-456-6700.