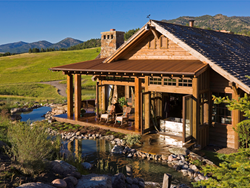 I'm looking forward to the added strength of having the Bridger Steel reputation behind our organization to better service our customers moving forward. - Eric Wolff, Big Sky Coil
Bozeman, Montana (PRWEB) March 16, 2017
For traditional industries, finding ways to adapt to the rapidly changing demands of an increasingly mobile customer can be a difficult task. Bridger Steel, in an effort to help improve logistics and provide a better experience to customers, is announcing the addition of Big Sky Coil to their growing brand. As companies like Bridger Steel continue to grow within the high-demanding construction industry, finding new ways to innovate, and improve processes need to be at the forefront.
Big Sky Coil, a steel coil inventory, supply and management company, successfully provides steel coil solutions to roll forming operations around the United States and Canada. As a customer, Bridger Steel has worked with Big Sky Coil to provide metal roofing, siding and interior panel systems to their customers. With the addition, Bridger Steel will be able to now offer Big Sky Coil's knowledge and innovative solutions to their customers and partners.
By adding Big Sky Coil to their organization, Bridger Steel will increase their own purchasing power, allowing them to further engage in stronger price-sensitive markets while maintaining their high-quality panel systems and well-known customer support.
"I'm looking forward to the added strength of having the Bridger Steel reputation behind our organization to better service our customers moving forward" says Eric Wolff of Big Sky Coil. "This gives us the opportunity to effectively compete in our growing market while maintaining a level of commitment and service to our existing customers."
Bridger Steel expects to fully integrate Big Sky Coil into the company organizational structure by March 31st, 2017.
More About Bridger Steel
Bridger Steel is the premier manufacturer of high quality metal panels in the Western United States. Started in 1996 by Dennis Johnson, Bridger Steel has based its success on providing the highest quality metal panels for roofing, siding and interior projects for the best value. Bridger Steel specializes in custom metal projects and a large selection of colors and profiles to fuel creativity and innovation.