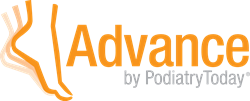 Malvern, PA (PRWEB) March 15, 2017
HMP, a leader in healthcare content and continuing medical education events, today announced the launch of Advance by Podiatry Today, a new conference that will deliver a mix of practical and provocative clinical content in a live setting. The inaugural gathering will take place October 13-15, 2017 at The Westin Michigan Avenue in Chicago.
Advance is designed for podiatrists who specialize in foot and ankle surgery, lower extremity dermatology, wound care and other aspects of foot and ankle care. The three-day conference will offer podiatrists an opportunity to earn 19.5 CECH credits by enhancing their knowledge of innovative procedures and conservative care techniques. Advance will integrate the elements of podiatric medicine, podiatric surgery, and practice management, and interactive session formats ranging from panel discussions to debate-style presentations will move the audience to have more direct involvement on shaping emerging consensus around current controversial topics and novel approaches to a wide variety of pathologies.
"Our objective for this conference is to create a forum that covers a variety of clinical and surgical topics, integrated with practice management and emerging evidence that can be incorporated into daily practice," said Randy Robbin, president, North American Center for Continuing Medical Education (NACCME), a subsidiary of HMP. "We have designed an agenda that features leading faculty who specialize in different areas of podiatry to give our audience the opportunity to gain practical and diverse knowledge in areas that are most important to their work, now and for the future."
The co-chairs for Advance by Podiatry Today include: Michael Downey, DPM, FACFAS, Chief, Division of Podiatric Surgery, Penn Presbyterian Medical Center; Ryan Fitzgerald, DPM, FACFAS, Clinical Assistant Professor of Surgery, University of South Carolina School of Medicine; Tracey Vlahovic, DPM, FFPM, RCPS(Glasg), Clinical Associate Professor, Department of Podiatric Medicine, Temple University School of Podiatric Medicine; and Stephanie Wu, DPM, MSc, FACFAS, Associate Dean of Research, Dr. William M. Scholl College of Podiatric Medicine, Rosalind Franklin University of Medicine and Science.
The launch of the meeting rounds out HMP's already strong presence in podiatry and coincides with the 30th anniversary of Podiatry Today, the company's award-winning print and digital publication that delivers informative clinical content as well as practice management articles for the podiatric community.
"This launch further solidifies HMP's presence in the podiatry market and further expands the value we provide to podiatrists," said Jeff Hennessy, chairman and CEO, HMP. "It is consistent with our multi-channel strategy of combining strong print and digital properties with a live educational meeting either through acquisition or organic growth. We see tremendous opportunity moving forward for this brand."
The launch of Advance by Podiatry Today continues the company's strong focus on driving its events-first strategy forward this year. In February, HMP completed the acquisition of EMS World Expo, North America's largest EMS, EMT and paramedic event. The meeting was recently named one of the 50 fastest growing trade shows by Trade Show Executive magazine.
With the launch of Advance, HMP will produce more than 260 national, regional and local events in 2017 across a range of therapeutic areas.
To learn more about Advance, visit podiatrytoday.com/advance.
About HMP Communications Holdings, LLC
HMP Communications Holdings, LLC (HMP), a collaborative formed by HMP Communications, LLC and the North American Center for Continuing Medical Education, LLC (NACCME), is a multichannel leader in healthcare content and education, with a mission to improve patient care. The company produces clinically relevant, evidence-based journals, events and accredited continuing education for the healthcare community across a range of therapeutic areas. Its brands include Consultant, the monthly, award-winning journal relied upon by primary care practitioners, Psych Congress, the nation's largest, independent mental health meeting, and the Symposium on Advanced Wound Care (SAWC), the largest wound care meeting in the world. For more information, visit hmpholdings.com.