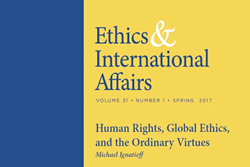 Ethics & International Affairs aims to help close the gap between theory and practice by publishing essays that integrate rigorous thinking about principles of justice and morality into discussions of practical dilemmas.
(PRWEB) March 13, 2017
Carnegie Council for Ethics in International Affairs presents the Spring 2017 issue of its acclaimed academic journal, "Ethics & International Affairs."
It includes essays by Michael Ignatieff on human rights and the ordinary virtues; Kristy A. Belton on the prospect of ending statelessness in the Americas, the second of a two-part series; and Carmen Gómez Martín on the problematic nature of refugee camps as de facto long-term solutions. It also contains two features, one by Dan Bulley and the other by Alise Coen, presenting differing views on the relationship between the Responsibility to Protect (RtoP) and the refugee protection regime, with a brief introduction by Jason Ralph and James Souter; a review essay on immigration ethics by Linda Bosniak; and book reviews by Andrew Altman, Andrew Hurrell, and William Gochberg.
Access the entire issue here: https://www.ethicsandinternationalaffairs.org/2017/spring-2017-issue-31-1/.
ESSAYS
Human Rights, Global Ethics, and the Ordinary Virtues
Michael Ignatieff
Heeding the Clarion Call in the Americas: The Quest to End Statelessness
Kristy A. Belton
Rethinking the Concept of a "Durable Solution": Sahrawi Refugee Camps Four Decades On [Full text]
Carmen Gómez Martín
FEATURES: RtoP AND THE REFUGEE PROTECTION REGIME
Introduction
Jason Ralph and James Souter
Shame on EU? Europe, RtoP, and the Politics of Refugee Protection
Dan Bulley
Capable and Culpable? The United States, RtoP, and Refugee Responsibility-Sharing
Alise Coen
REVIEW ESSAY
Immigration Ethics and the Context of Justice
Linda Bosniak
BOOK REVIEWS [Full text]
Targeted Killing: A Legal and Political History
Markus Gunneflo
Review by Andrew Altman
The Global Transformation: History, Modernity and the Making of International Relations
Barry Buzan and George Lawson
Review by Andrew Hurrell
Blood Oil: Tyrants, Violence, and the Rules that Run the World
Leif Wenar
Review by William Gochberg
ABOUT CARNEGIE COUNCIL
Founded by Andrew Carnegie in 1914 and based in New York City, Carnegie Council for Ethics in International Affairs is an educational, nonprofit, nonpartisan organization that produces lectures, publications, and multimedia materials on the ethical challenges of living in a globalized world. Go to http://www.carnegiecouncil.org.