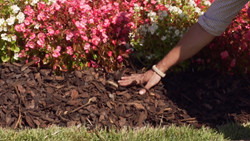 Mulch plays an important role in helping to control weeds and manage soil moisture. – Doug Scott
Beatrice, Neb. (PRWEB) March 14, 2017
For many homeowners, mulch is often an overlooked component of a well-maintained yard. Once you have chosen and installed plants that compliment and anchor your lawn, it's time to consider mulch options. The goal is to give planting beds the beautiful finished appearance that compliments the rest of the lawn.
According to landscape designer, Doug Scott, of Redeem Your Ground in Atlanta, Georgia, mulch does more than provide a finished appearance to planting beds.
"Mulch also plays an important role in helping to control weeds and manage soil moisture."
Scott said that, with the wide variety of mulching products to choose from, the choice of which to use boils down to the desired design aesthetic, budget and the functionality of the materials being used.
Great mulch options to consider:
Lightweight and natural looking, pine needles and pine straw are excellent for mulching around acid-loving plants such as azaleas, rhododendrons and camellias.
"If you already have pine trees in your yard, using pine straw is an obvious choice, given nature will help cover your costs," Scott said.
The interlocking quality of pine needles helps it stay put in heavy rains better than some other mulch options, making them a good choice for sloped beds. Often, the primary reasons many homeowners choose pine straw are low cost and ease of transportation.
Although more expensive than pine straw, hardwood mulch is another popular option to consider.
"Hardwood mulch serves as a better weed and moisture barrier than pine straw," Scott said. "But at the end of the day, as long as it's within the budget, I find most of my clients choose hardwood mulch over pine straw because they simply like the look of it better."
Dyed wood is another attractive, durable mulch option that many homeowners choose, primarily because there are numerous color options to match the design aesthetic. However, Scott offered one word of caution about the use of dyed mulch.
"Although the dye used to color this type of mulch isn't toxic, some are manufactured using recycled wood that may contain additives, much like pressure treated wood."
For this reason, Scott recommends homeowners choose mulch made from raw wood instead of recycled wood.
Pine nuggets are another great option to consider. Like other organic mulch options, pine nuggets enrich the soil as they break down.
"Pine nuggets are also easy to install and come in various sizes, from mini to jumbo, giving you more options to choose from," Scott added.
The potential downside of pine nuggets is that they can float away in heavy rain, making them a less than ideal option for sloped areas.
Stone mulch is another popular option with homeowners.
"In the right setting, various sizes of rock or stone can provide a unique, high impact look to bedding or border areas."
While stone mulches are durable and don't break down quickly, they can eventually sink into the soil. This requires fill-in applications.
"In addition, when leaves drop into other mulches, it still looks natural," Scott said. "With stone mulch, that's not the case."
As a result, it's important to keep areas with stone mulch leaf-free to maintain their appearance.
"It can also be difficult to add plants in and around stone mulches, and they're less effective at maintaining soil moisture in sunny areas due to the warmer soil conditions they create. This leads to increased evaporation."
Each mulch type has its strengths and weaknesses, but Scott noted that adding mulch to landscape beds is a necessity from both a design and functional perspective.
Visit WeAreExmark.com/diy to view five more 'Done in a Weekend' videos featuring project ideas to increase the appeal of your outdoor living space.
– 30 –
About Exmark
Exmark Manufacturing was incorporated in May 1982 as an independent manufacturer of professional turf care equipment. Today, it is the leading manufacturer of commercial mowers and equipment for the landscape professional. Exmark mowers are purchased 2-to-1 over the next best-selling brand by landscape maintenance professionals. In addition to designing, building and marketing quality turf care equipment, Exmark's goal is total customer satisfaction. All Exmark products are designed to help customers increase productivity while delivering unmatched quality. Products are sold to distributors and dealers who share the company's commitment to customer service and quality products. Learn more at Exmark.com.
Note to Editors: All media inquiries, image or interview requests should be directed to Matt Gersib at (402) 314-2150 or mattgersib(at)gmail(dot)com. For other inquiries, please contact Exmark Mfg. Co., Inc., Industrial Park N.W., P.O. Box 808, Beatrice, NE 68310-0808; (402) 223-6300.