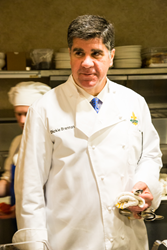 New Orleans, LA (PRWEB) March 11, 2017
Richard "Dickie" Brennan Jr. will be honored as Louisiana's 2017 Hibernian of the Year by the Ancient Order of Hibernians (AOH). Brennan, a trained chef and third generation New Orleans restaurateur of the renowned Brennan family, will be honored on March 17, 2017, at the 142nd Annual St. Patrick's Day Banquet in New Orleans, Louisiana.
Long active in Irish affairs, Brennan has served on several boards including the 2014 International Irish Famine Commemoration event committee and has supported citywide Irish events and charities by providing traditional Irish cuisine.
"His generosity towards all of our causes is a legend here in Louisiana. His father felt the same way about the AOH and was 'Hibernian of the Year' over 40 years ago," said New Orleans native and AOH National President, Chief Judge James F. McKay.
Brennan is co-owner and managing partner of Palace Café, Dickie Brennan's Steakhouse, Bourbon House and Tableau. He was raised in New Orleans and worked under the tutelage of esteemed Chef Paul Prudhomme. Dickie helped Commander's Palace lead the American Regional Cuisine movement by introducing the world to Cajun and Creole cooking. Currently, Brennan serves on the New Orleans Culinary & Hospitality Institute Board, the Louisiana Travel Promotion Association Board, and the National Restaurant Association Board.
On Saint Patrick's Day, Brennan will be honored at 12:00 p.m. Mass at St Patrick's Church located at 724 Camp St in New Orleans. The Mass will be celebrated by the Archbishop of New Orleans, Gregory Michael Aymond. That evening, the AOH will recognize Brennan at the 142nd Annual St. Patrick's Day Banquet. The event will begin on Friday, March 17, 2017, at 7 p.m. at the Astor Crowne Plaza Hotel, located at 739 Canal Street. The Grand March of the Hibernians will start at 8 p.m. The evening will include traditional Irish entertainment by The Muggivan Irish Dancers, The United States Marine Corps Band along with The Jimmy Maxwell Orchestra of New Orleans. Tickets are available at http://www.aohla.com.
The Ancient Order of Hibernians (AOH) is America's oldest Irish Catholic Fraternal Organization founded concurrently in the coal-mining region of Pennsylvania and New York City in May 1836. The Order can trace its roots back to a series of similar societies that existed in Ireland for more than 300 years. Today the AOH exists in America, Canada, Ireland, England, Wales and Scotland, however, while the organizations share a common thread, the American AOH is a separate and much larger organization. The Louisiana Divisions supports Irish culture and local charities including the Kingsley House, Lantern Light Ministry, Disabled Veterans and scholarships for Seminarians.
Dickie Brennan & Company was established to continue the rich history of New Orleans cuisine through locally-inspired and nationally-recognized cuisine. Dickie Brennan and Co.'s restaurant group includes four restaurants located in New Orleans' picturesque French Quarter: Palace Café, Dickie Brennan's Steakhouse, Bourbon House, and Tableau.