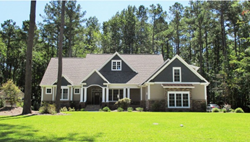 New Bern, North Carolina offers affordable real estate options, a friendly atmosphere, and a strong sense of community. One of our favorite communities to recommend in the area is Carolina Colours, just 10 minutes from New Bern's historic downtown.
Bluffton, SC (PRWEB) March 14, 2017
Marian Schaffer, Principal and Founder of Southeast Discovery, a real estate consulting firm specializing in guiding Baby Boomers with their real estate needs in the niche markets of retirement relocation and second homes in the Southeast region, recently shared 10 reasons to consider the coastal community of [Carolina Colours, located just outside the historic town of New Bern, NC, for retirement, relocation or second home purchase.
"For buyers looking to live in a town that has preserved its historical significance and hasn't lost that yesteryear charm, New Bern, North Carolina is just that kind of place, with affordable real estate options, a friendly atmosphere, and a strong sense of community," said Schaffer. "At Southeast Discovery, we think New Bern, and the coastal golf community of Carolina Colours just 10 minutes from New Bern's historic downtown, is ideal for retirement relocation."
According to Schaffer, these ten qualities make Carolina Colours a strong choice for those seeking a vacation home or permanent residence in a vibrant coastal golf community:
#1: Location.
Carolina Colours is located 30 miles from the Atlantic Ocean and 10 minutes from the historic coastal town of New Bern, NC, which recently celebrated its 300th anniversary. The first capital of North Carolina and birthplace of Pepsi Cola, New Bern is home to old churches, historic homes, and charming shops.
#2. Affordability.
"Carolina Colours is an affordable golf and master-planned community with homes and home sites to fit most budget and lifestyle preferences," said Schaffer. "The community offers forest, creek, golf, pond, lake and open settings homes and home sites that range in price from $220,000-$600,000 for homes, and $42,000-$125,000 for home sites."
#3: Dependable developer with a proven track record.
"Preston Development Company is recognized as a premiere development team with a great reputation for planning and producing high quality development projects throughout the Southeast for over 30 years," said Schaffer. "They've helped create 35 communities, and been involved in the development and sales of more than 10,000 homes."
#4: Close to daily conveniences.
The Harris Teeter Carolina Colours Towne Centre shopping area is located just outside the gates of Carolina Colours, and the community is just 10 minutes from downtown New Bern, NC, with its churches, shops, restaurants, and other abundant conveniences.
#5: High quality health care nearby.
"Geographical proximity to top-notch medical care is another desirable attribute of living in this community," said Schaffer. "The Carolina East Medical Center in New Bern is a full care 350-bed hospital, with more than 250 doctors, 2,100 staff members and 500 volunteers, and features special care units for heart, cancer, critical care, intensive care, women, orthopedics, surgeries and other specialties. And one of the best medical facilities in the country, Duke University Medical Center, is located a little over two hours away in Durham, NC."
#6: A compelling mix of social activities.
"Carolina Colours offers a nice blend of social activities from active pursuits like yoga and other kinds of exercise, to games like bridge and Mah Jongg, to Members Dinners and the Friday Night Social at the Pavilion," said Schaffer.
#7: Plentiful opportunities for world-class sailing and boating.
"For those who love sailing, boating and other water-oriented recreation activities, Carolina Colours location outside of New Bern is ideal," said Schaffer. New Bern sits at the confluence of the Trent and Neuse Rivers, which offers water adventures from swimming, to water skiing, to sailing, to paddling and/or fishing. New Bern's aquatic location attracts both local and long-distance boaters, and few short miles downstream is the quaint town of Oriental, billed as, "the sailing capital of North Carolina."
#8: Mild four-season climate.
Carolina Colours location near the North Carolina coast enjoys generally mild climate year-round, without extremes between seasons, which allows for outdoor activities to be enjoyed any time of the year.
#9: Near the beaches of North Carolina's Crystal Coast.
Carolina Colours is located a little over an hour from North Carolina's Crystal Coast, a 30-mile stretch of coastline that begins at the Cape Lookout Lighthouse and includes the barrier island communities of Atlantic Beach, Pine Knoll Shores, Salter Path, Indian Beach, and Emerald Isle.
#10: Nearby airport access.
Coastal Carolina Regional Airport (EWN) is located approximately 10 minutes away from Carolina Colours in New Bern, offering frequent flights from American Airlines and Delta to East Coast hub airports that connect to more than 300 destinations worldwide. Wilmington International Airport (ILM) is approximately 1 hour, 45 minutes south of New Bern, and offers numerous flights through American Airlines/US Airways and Delta Airlines.
If you're considering relocating to the Southeast but don't know how or where to start your search, we can help. We've been working with clients to find the right area and community to call home in the Southeast for over a decade. Feel free to [complete our complimentary online questionnaire here and we'll send you feedback on the best areas and specific communities that may be just right for you.
About Southeast Discovery
Since 2004, Southeast Discovery has been a trusted resource for candid information and insight on communities, developments, and general real estate in the Southeast. Through its highly-ranked web portal, newsletter and blog and its one-on-one work with clients, Southeast Discovery helps buyers actively looking for a retirement or second home in the Southeast navigate the process of identifying the right area and community for their needs. To learn more, visit http://www.southeastdiscovery.com/