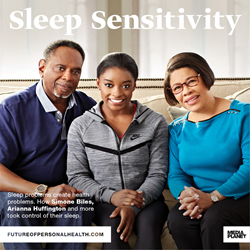 As one of the pillars of a healthy lifestyle, sleep is essential for your physical health, mental well-being, daytime alertness and performance
New York, NY (PRWEB) March 10, 2017
Mediaplanet today announces the distribution of its fifth edition of "Sleep Sensitivity," a guide on getting the rest needed to have a productive life that also highlights the various sleep conditions plaguing our nation. The campaign encourages readers to make time for sleep — an often-underrated activity.
"As one of the pillars of a healthy lifestyle, sleep is essential for your physical health, mental well-being, daytime alertness and performance. Adults should sleep 7 or more hours per night on a regular basis to promote optimal health," says Dr. Robert Chervin, the president of the American Academy of Sleep Medicine. Chervin does note that while 7 hours is the goal, there is a common factor that may prevent this from happening: stress. "Stress is a common cause of insomnia, which involves difficulty falling asleep or staying asleep. Insomnia can result in part from ongoing, stressful life situations that occupy your time and preoccupy your mind. This type of stress may involve time pressures at work, frequent travel, relationship challenges or taking care of a family member who has a chronic illness."
In addition to insomnia, the campaign looks at other sleep conditions, including narcolepsy. "Narcolepsy is estimated to affect over 200,000 U.S. adults. People with untreated narcolepsy suffer from chronic daytime sleepiness, sometimes falling asleep unexpectedly during the day, which is often described as 'sleep attacks,'" shares the Better Sleep Council. While the cause of narcolepsy is unknown, research shows that a combination of environmental and genetic factors influence the immune system. This section of the campaign was made possible by one of our Key Sponsors — Jazz Pharmaceuticals.
Among the campaign partners is U.S. Olympic gold medalist Simone Biles. After proving to be unstoppable on the gymnastics mat, Biles shares that she does, in fact, slow down every day to get the rest she needs to do her best. Biles also makes sure that other children are getting the rest they need to succeed. Her work with Ticket to Dream Foundation teaches the importance of sleep for all children while specifically highlighting those in the foster care system. "Foster children hold a special place in my heart, so I'm excited to partner with a brand that not only understands the importance of a good night's sleep but also shares my passion for helping those kids," says Biles.
The print component of "Sleep Sensitivity" is distributed within USA Today in the New York, Boston, Philadelphia, Washington DC, Baltimore and Houston markets, with a circulation of 250,000 copies to an estimated readership of 750,000. Its digital component was distributed nationally, through a vast social media strategy, and across a network of top news sites and partner outlets. To explore the digital campaign, click here.
This campaign was made possible with the support of the American Academy of Sleep Medicine, MyEarlySense, Simone Biles, Ticket to Dream Foundation, NovaSom, Better Sleep Council, MattressFirm, CertiPUR-US, Dr. James Maas, Dr. Michael Breus, Narcolepsy Network, Anxiety and Depression Association of America, Jazz Pharmaceuticals, Arianna Huffington, ProSomnus Sleep Technology and Tempur-Sealy International.