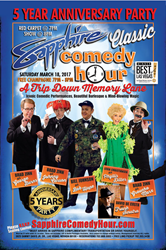 To show our appreciation to all those who have performed in our show, to those who have attended our show and to those that voted for us we are having a celebration on Saturday, March 18th from 7-10pm.
Las Vegas, Nevada (PRWEB) March 10, 2017
It is said that "laughter is good for the soul." Well, if that is the case then everyone is going to heaven especially after an evening's entertainment at Sapphire Classic Comedy Hour, inside Sapphire, the "World's Largest Gentleman's Club."
Guests/VIP/Media are invited to arrive at 6:30pm, with a red carpet for celebrities starting from 7pm and going to 8pm with complimentary celebratory champagne for all. The show will kick off at 8pm and will feature the following amazing entertainers.
Celebrity Impersonator Brad Zinn takes us on a trip through heaven as George Burns playing God. Comedy greats Johnny Carson and Groucho Marx played by Zinn will remind us all of the great days of the 50s, 60s and 70s. Renowned Impersonator Bill Johnson performs as Bob Hope alongside Phyllis Diller, portrayed by the extremely talented Leigh Christiansen.
For a little variety, Magician Mon Dre effortlessly makes pigeons appear out of nowhere and what he does at the end of his act makes the crowd go bananas. Las Vegas' most famous burlesque star Kalani Kokonuts (Miss Exotic World 2009 and 5-time Playboy Centerfold) will seduce the audience with her Jessica Rabbit performance and amazing body.
And, if that's not enough, Frank Sinatra Impersonator David De Costa will wow the audience with some of 'Chairman's' greatest hits.
Sapphire Comedy Hour stand-up comedy and variety show has taken Las Vegas audiences by storm. The show, now celebrating its fifth year, showcases the talents of comedians, magicians, burlesque and has garnished the 'Best Comedy Show in Las Vegas' in the 2016 Review Journal reader poll.
The Sapphire Comedy Hour is Produced and Directed by Brett Feinstein of Sapphire Entertainment. Co-producing is long-time Vegas Magician Douglas "Lefty" Leferovich who acts as creative director, magic consultant and also is a featured performer. Along with Brett and Lefty, Co-producing is comedy expert Philip Peredo who is President of his own TickleMe Entertainment and books many of the comedic acts for the this comedy show. With this trio, it's no surprise these guys can get heavy-hitting acts that will blow you away!
The Sapphire Comedy Hour is held each Saturday at 8pm, at Sapphire Gentlemen's Club, "World's Largest Gentleman's Club", 3025 Sammy Davis Junior Drive., Las Vegas, Nevada 89109 inside the separate, 300-seat, state-of-the-art Showroom.
Sapphire, is the "World's Largest Gentleman's Club" with over 70,000 square feet of topless entertainment. Open 24/7, 365 days a year to patrons 21 and over. Sapphire serves the finest variety of cocktails, wines, champagne and cigars.
For reservations and bottle service information call 702.869.0003. And for special offers and updates follow Sapphire LV on twitter @sapphirelv. Sapphire provides complimentary transportation from all of the Las Vegas Strip Casino Hotels.