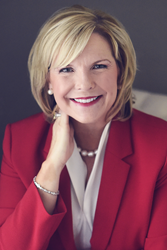 Patti Husic is an innovative and driven leader with an unwavering commitment to the betterment of the financial industry, her colleagues, and her community.
Harrisburg, Pennsylvania (PRWEB) March 10, 2017
Patricia A. (Patti) Husic, president and CEO of Centric Financial Corporation and Centric Bank, has been honored with PA Bankers' inaugural Woman of Influence Award for her groundbreaking initiatives in the banking industry in Pennsylvania and across the country. The award was presented by the PA Bankers Association at their fourth annual Women in Banking Conference on March 6 at The Hotel Hershey. A record attendance of more than 300 women representing multi-billion dollar institutions as well as community banks met for a day of professional development, career advancement, mentoring, and networking.
"Patti is an innovative and driven leader with an unwavering commitment to the betterment of the financial industry, her colleagues, and her community," says Duncan Campbell, president & CEO of PA Bankers. "In honor of her contagious passion and dynamic leadership, the PA Bankers' Woman of Influence Award will be renamed the 'Patricia A. Husic Woman of Influence Award' beginning in 2018."
"I am humbled and honored to receive the 2017 Woman of Influence Award and touched that the award will be carried forward in my name. At every career level, we are encouraging women to expand their networks, set challenging goals, and open doors for all women to advance. Thank you to PA Bankers for this incredible honor, which is a testament to the bright future and impact of the Women in Banking program," says Husic, past chair of PA Bankers and founder of the Women in Banking Conference and Committee.
"As this program grew from a singular idea to a sold-out conference, we have tapped into a rich pool of talented and aspiring women. We are energizing and educating hundreds of future leaders and becoming the face of inclusion in banking. And a special thank you to our board of directors for their support of our vision and help in championing diversity at our own institution and statewide."
The Woman of Influence Award is part of PA Bankers' new Women in Banking Recognition of Excellence Program to celebrate men and women in the banking industry who promote and inspire women in the workplace to reach their full potential.
Additional Recognition of Excellence winners included two Champion for Women Award recipients: Rebecca Stapleton, chief banking officer, S&T Bank, Indiana, Pa., and Charles Ferry, partner and attorney, Rhoads & Sinon, Harrisburg, Pa. The Tomorrow's Promise Award was given to LeeAnn Gephart, chief marketing & culture officer, Woodlands Bank, Williamsport, Pa.
The year 2016 was a milestone for Patti Husic and Centric Bank. In October, Centric Bank was named a Top Team in American Banker's 25 Most Powerful Women in Banking, an exclamation point to Husic's intentional advancement of high-achieving women. Husic herself ascended to #17 in the Most Powerful Women in Banking list, a recognition that has brought national attention to the bank's organic lending successes and Husic's commitment to 'Be the Difference Maker' for the men and women on Main Street.
"I'm so proud that the fourth annual Women in Banking Conference saw a record number of attendees, 25 percent of whom had never been to a PA Banker event before. One of our goals is to provide women with a clear path to advancement and leadership in banking and to make sure there will be more women finding their voice and seats at banking's decision-making tables. By every measure, our program is a difference maker for Pennsylvania women in banking. The future is full of possibilities for the next generation," says Husic.
ABOUT CENTRIC FINANCIAL CORPORATION AND CENTRIC BANK
A three-time Best Places to Work and Top 50 Fastest-Growing Companies for four years, Centric Bank is headquartered in south central Pennsylvania with assets of $498 million and remains the leader in organic loan growth in central Pennsylvania. A locally owned, locally loaned community bank, Centric Bank provides highly competitive and pro-growth financial services to businesses, professionals, individuals, families, and the health care and agricultural industries. With a Five-Star Bauer Financial Rating, Centric Bank, named a Top 100 SBA Lender in the United States, also ranked #1 in approved SBA 7(a) loans in the Eastern District as of December 31, 2016. The bank is also a Top 20 Lender for SBA Loans in the Philadelphia Region.
Founded in 2007, Pennsylvania-based Centric Bank has financial centers located in Harrisburg, Hershey, Mechanicsburg, and Camp Hill, and loan production offices in Lancaster and suburban Philadelphia. To learn more about Centric Bank, call 717.657.7727 or visit CentricBank.com. Connect with them on Twitter at @CentricBank and Facebook at Centric Bank.
Centric Financial Corporation is traded over the counter (OTC-Pink) with the ticker symbol CFCX.
ABOUT PA BANKERS
PA Bankers, located in Harrisburg, is the state's leading banking trade association representing an expansive and diverse membership. The association offers extensive continuing education programs, government relations representation on behalf of the industry and provides numerous products and services for banks and their employees. Follow the Pennsylvania Bankers Association on Facebook, LinkedIn and Twitter (@PABankers).