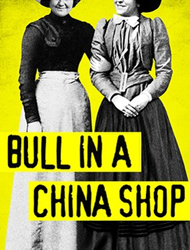 If you are not half in love with Woolley by the end of the opening scene, I wonder whether you slipped into a heavy slumber before the performance began
Fort Bragg, CA (PRWEB) March 13, 2017
The world premiere of Bull in a China Shop, the first off-Broadway play by Fort Bragg native Bryna Turner has garnered accolades and an extended run until April 2 at Lincoln Center's Claire Tow Theater in New York City. The play, directed by Lee Sunday Evans, who also directed Turner's play Lights over Philo while Turner was a graduate student at Rutgers, features a multicultural all-women cast of five, including Tony nominee Enid Graham, Ruibo Qian, Michele Selene Ang, Lizbeth Mackay, and Crystal Lucas-Perry. The comedy focuses on the 50-year relationship between two intellectuals; women who were activists in the women's suffrage and peace movements at the beginning of the 20th Century, Mary Emma Woolley, President of Mount Holyoke College from 1901-1937 and her partner Jeannette Marks, who chaired the English department at the college. The play is based on the real-life letters of the couple, which Turner discovered after Mount Holyoke mounted a digital exhibit about the revolutionary couple.
"It was a little unsettling to me, as I had graduated from Mount Holyoke, yet had not heard their incredible story while I was there as a student. Why didn't I already know this part of the school's history?"
Turner decided it was time to write a play about the lives of the two women and the vagaries of their relationship, but had a hard time determining a way to dramatize it until she broke up with her partner of five years. The resulting pain and heartbreak opened the floodgates to her creativity, and she created a play with an episodic structure that is very contemporary. The play asks questions but does not give all the answers, so that the audience is stimulated to come to their own conclusions and examine the history of feminism in the process.
In a review in the New York Times, theater critic Laura Collins-Hughes exhorts readers: "If you are not half in love with Woolley by the end of the opening scene, I wonder whether you slipped into a heavy slumber before the performance began."
Turner is the daughter of longtime Fort Bragg Mayor Dave Turner and Fort Bragg quilt artist Anne Turner. She now lives in Brooklyn where she writes plays about women in the gay community, including How to Separate Your Soul from Your Body (in ten easy steps!), The Apprentice, a coming-of-age noir/comedy, The Stand-In, a contemporary Uncle Vanya adaptation that takes place in a decaying movie-house, and Lights Over Philo, where her heroine returns to her very small community in northern California and experiences a series of bizarre incidents.
Tickets are available at the Lincoln Center Theater box office, telecharge.com, and at lct.org. The Claire Tow Theater is located at 150 West 65th Street, New York.