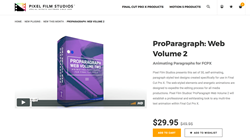 This FCPX plugin comes with paragraph styled text designs.
Aliso Viejo, CA (PRWEB) March 12, 2017
Pixel Film Studios presents this set of 30, self-animating, paragraph styled text designs created specifically for use in Final Cut Pro X. The web-styled elements and energetic animations are designed to expedite the editing process for all media productions. Pixel Film Studios' ProParagraph Web Volume 2 will establish a professional and exhilarating look to any multi-line text animation within Final Cut Pro X.
ProParagraph Web Volume 2 is a package of 30 web styled self-animating paragraphs created for multi-lined text purposes. Choose from presets with original animations containing dynamic designs that enhance any and all media productions. ProParagraph Web Volume 2s' eye-catching animation designs make it an essential component to any video production. ProParagraph is the perfect way to broadcast multiple line text information across any media selection.
Choose from a vast arrangement of innovative animation preset designs that expedite the editing process. Each ProParagraph Web Volume 2 preset includes both an intro and outro animation, as well as the capability to lengthen the timing of the animation itself. Each preset is precision-based and smoothly animated to bring a streamline and professional mood to any video production. Use ProParagraph's innovative style to bring an informative structure across all media applications.
ProParagraph Web Volume 2's easy to use interface options offer a simplistic method for users to customize each preset design with on-screen controls. On-screen controls allow editors to change the positioning, rotation, and scale of each preset. ProParagraph makes it simple to create a number of dynamically different designs. Customize colors, length, width, opacity, and sizes with user-friendly slider controls in order to establish new and exciting designs.
ProParagraph Web Volume 2 is made respectively for Final Cut Pro X users. To use, simply drag and drop the desired preset into the timeline above any source media and easily customize the preset accordingly. Each preset has been created in order to be used with any type of desired media, such as videos or images. Pixel Film Studios ProParagraph Web Volume 2 is entirely editable within FCPX and makes the perfect match for all multi-line media needs!
Established in 2006, Aliso Viejo, California-based Pixel Film Studios is an innovative developer of visual effects tools for the post-production and broadcast community. Their products are integrated with popular non-linear editing and compositing products from Apple FCPX. Apple, the Apple logo, Mac OS X, and Macintosh are registered trademarks of Apple Inc. in the U.S. and/or other countries. All other trademarks and trade names are the property of their respective owners.