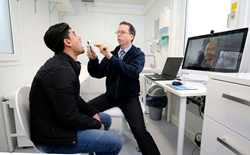 AUSTIN, Texas (PRWEB) March 11, 2017
AUSTIN, Texas – March 11, 2017 – On March 12 at 12:30 p.m. CST, the Refugee First Response Center (RFRC) will be the focus of the SXSW Interactive panel "Tech for Good: Solutions for the Refugee Crisis," hosted by its co-creator Harald Neidhardt. Ten of these new tech-based container-clinics in Hamburg, Germany have demonstrated how live video translation can be utilized at refugee shelters worldwide to revolutionize medical treatment. The RFRC-prototype was co-created by CISCO and Neidhardt's MLOVE team with local partners in Hamburg. The goal is to install 100 container clinics at relevant hot spot locations in the near future.
Language is a key factor for medical aid. That's why the team of the RFRC has upgraded shipping containers with medical equipment, a network and HD-video conferencing facilities. These allow doctors and medical staff to interact through a highly flexible interpreter service, helping process the refugees' entry and give them medical assistance more efficiently. Interpreters in about 50 languages are available quickly via live video broadcast, helping doctors and patients communicate with each other better and faster.
"Tech is awesome and fun, but it can also become truly meaningful. When a large number of refugees arrived in Germany, we wondered how we could help. Then we developed the prototype of the Refugee First Response Center in cooperation with CISCO," explained Neidhardt. "The container-clinic connects with video-live-stream interpreters for medical examinations in 50 languages. Ten of these smart containers have already been dispensed throughout Hamburg and have been very well-received. Our concept shows how we can establish innovation to help more people using equitable resources."
The initial idea, helped on its way by Mirko Bass of CISCO Systems, became a reality in Germany's second largest city Hamburg within just six weeks. During the height of the refugee crisis, the first 10 of these medical emergency stations was installed in Hamburg, based on a donation of $1,000,000 by the Dorit & Alexander Otto Foundation. An impressive 5,000 medical examinations were completed in the first pilot clinic container in just five months in cooperation with the University Medical Center Hamburg-Eppendorf (UKE) and the health department of the Free and Hanseatic City of Hamburg. Additional facilities are now being installed in Greece and Lebanon, with the ultimate goal being the installation of 100 (or more) of the kitted-out containers along the critical migration routes.
The panel entitled "Tech for Good: Solutions for the Refugee Crisis" will be moderated by Harald Neidhardt and also feature Bernhard Kowatsch, Director of the UN World Food Program Accelerator; Mike Butcher, founder of the initiative TechFugees; and Paula Schwarz, founder of the Startupboat.
Tech for Good: Solutions for the Refugee Crisis
March 12, 2017 from 12:30 p.m. to 1:30 p.m. CST
Venue: JW Marriot, Room 201-202, 110 E 2nd St, Austin, TX
http://schedule.sxsw.com/2017/events/PP61382 (SXSW registration required)
Further information about Refugee First Response Center: http://www.refugeefirstresponsecenter.com
More Hamburg social business from tech and creative industries attending SXSW:
Three other so-called 'social businesses' from Hamburg will be attending SXSW this year. Lemonaid and Viva Con Agua are innovative social initiatives on a mission to help crowdfund projects that fight the problems making mass migration so necessary, such as famine and water shortage. Each social company could raise more than $1 million US with various activities on an active community and their successful social beverage brands.
Start-up Nüwiel is aiming for environmental friendliness. Its product is an electric-run bicycle trailer that can travel uphill, designed for inner-city traffic and primarily to assist in transporting food. Founded by Fahad Khan, Natalia Tomiyama and Sandro Rabbiosi, the trailer can easily transport loads of up to 120 kg. The founders have won the EXIST, InnorampUp and Climate-KIC funding programs.
SXSW is a great chance to get inspired by innovative business concepts, festivals and digital conferences coming from Hamburg – one of the most creative business locations in Europe. Prior and during SXSW 2017, the following website will provide media with information, text material and photos aimed at supporting editorial work: http://www.marketing.hamburg.de/sxsw.html.
###
Media Contact:
Hamburg Marketing
Matthias Beer
Tel.: +49 (0)40 300 51 582
Mobile: +49 (0)152 5486 4536
Email: Matthias.beer@marketing.hamburg.de
Leverage PR
Christopher Ruth
Tel.: 512.502.5833
Mobile: 630.536.9139
Email: chris@leverage-pr.com