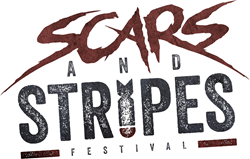 Performing for our nation's military is always the utmost honor for us.
Las Vegas, NV (PRWEB) March 13, 2017
Hard rock powerhouse 3 Doors Down is headlining the Scars & Stripes music festival at the Downtown Las Vegas Event Center Saturday, June 3, 2017. The 16-time platinum band, who celebrated their 20th anniversary last year with the release of their sixth studio album, Us and the Night, has rocked audiences around the world of the strength of such hits as "Kryptonite," "When I'm Gone," "Here Without You," and numerous others.
Scars & Stripes is being produced by Filthy Nasty Productions in conjunction with Empire Reign and Mungo Creative Group. Discounted tickets will initially be available to active duty military, their dependents and veterans and then go on-sale to the general public. Proceeds from ticket sales will be used to benefit three local veteran organizations in the Las Vegas area including the Nevada chapter of Pets for Vets. Pets for Vets is dedicated to supporting veterans and providing a second chance for shelter pets by rescuing, training and pairing them with veterans who could benefit from a companion animal.
"Vegas has always been a great city to us, we have fond memories of shows there," said Brad Arnold, lead vocalist for 3 Doors Down. "When we were asked to headline the inaugural Scars & Stripes Festival in support of veterans and Pets for Vets we were immediately in! Our military and veterans are near and dear to our hearts and a big part of why we do this. We look forward to a great day of rock n' roll with Pop Evil and many other great bands. See you June 3rd!"
The current lineup is as follows:
3 Doors Down
Asking Alexandria
Hellyeah
Pop Evil
10 Years
Adam Gontier
Otherwise
Shamans Harvest
Devour The Day
Charcoal Tongue
Lansdowne
Moscow
Las Vegas natives and hard-rock quartet, Otherwise, are mainstays in the US Mainstream Rock charts with hits like "I Don't Apologize (1,000 Pictures)," and "Soldiers." Lead guitarist Ryan Patrick said the band is looking forward to playing this massive event in front of a hometown crowd.
"The first time we ever played a big concert like this in Las Vegas, the momentum of our careers was super charged," he said. "Now, to not only be on the bill for the inaugural Scars & Stripes music festival but to also be a part of the incredible team putting this massive show together is game-changing. Performing for our nation's military is always the utmost honor for us."
Tickets for Scars & Stripes go on sale Wednesday, March 15. For more information on the event, the featured bands, and the story behind the festival, visit http://www.scarsandstripesfest.com. The Scars & Stripes band lineup is subject to change.
###