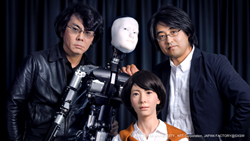 AUSTIN, Texas (PRWEB) March 11, 2017
Japan Factory will bring innovative technology to SXSW 2017 from March 12–14, notably including humanoid robots, artificial intelligence, a hologram concert and more. Formed by a collaboration of dedicated leaders in technology, Japan Factory will showcase the latest technology from Japan and a dose of Japanese culture with celebrity speakers, panel sessions, interactive exhibitions, and live entertainment, centered on the theme, "Hello Synchronicity." Japan Factory is located in Trinity Warehouse (401 E Cesar Chavez).
"In this age, robots can talk like humans, and virtual reality is able to turn fantasy into a reality," said Kumiko Kitamura, executive producer of Japan Factory. "The fusion of humans and robots, the real and virtual, technology and craftsmanship, and consciousness and the subconscious all happens synchronously. Echoing this trend, Japan Factory wants to reveal the great potential of the intersection of technology and information, as well as how it can enhance the way we live."
The three-day event will include ground-breaking sessions with highly acclaimed Japanese technologists on topics such as: Artificial intelligence (AI), robotics, virtual reality, entertainment and lifestyle, and food.
Leading the interactive panel sessions are world-renowned AI roboticist, Dr. Hiroshi Ishiguro, and human and AI communication scientist, Dr. Ryuichiro Higashinaka. They will unveil the capability of robots to maintain logical conversations with two new humanoid robots: Repliee S1, an "exo-naked" interactive robot that can talk to and understand humans, and Android U, a Japanese idol-style android designed for advanced human interaction. At the panel, humans and androids will sit together to cover a wide range of trending topics in gaming, music, and everyday tasks, such as debating whether AI or humans are better drivers. After the interactive panel, Dr. Ishiguro and Dr. Higashinaka will join four other AI experts during the "Researcher's Meet Up" to discuss their unique insights at Japan Factory on March 14 from 9:00 to 10:00 a.m.
In addition, Japan Factory will introduce how advanced technology can improve people's lives. Dr. Yoshiki Ishikawa, public health and AI expert, will present his latest research on how AI can revolutionize cooking by generating healthy and tasty recipes based on users' previous eating habits. In the era of excessive fat, sugar and salt consumption, Dr. Ishikawa will use AI to decode food structures and calculate the best diet for a given individual.
Offering a refreshing alternative to today's mass consumer society, Japanese organizing consultant, author and visionary entrepreneur Marie Kondo will share her method of organizing known as the "KonMari" method. This highly-welcomed organizing method consists of gathering and categorizing everything, keeping only those things that "spark joy" and choosing the right place to store them.
As real and virtual are increasingly merging, NTT presents an immersive concert, "Cyber Teleportation Tokyo," which uses holograms to further challenge the boundary of what is real and what is not. The concert will transform an Austin venue into a live music performance in Tokyo, requiring no external VR device for attendees. The entire experience is powered by NTT's technology Kirari! and high-speed communications networking technology to bring one of the most potent forms of digital entertainment.
The immersive concert will feature 2017 Grammy Award nominated Japanese DJ, starRo in Austin and Japanese female dance duo, AyaBambi, rapper Ryohu (KANDYTOWN), singer Taichi Mukai, and Cheeky Parade in Tokyo.
Not only are SXSW badge holders invited to the featured panels and live performances, but Japan Factory will also have two exhibits on display throughout the three-day event. When visitors arrive at Japan Factory in Trinity Warehouse, they will be invited to chat with the Repliee S1 and Android U robots. Additionally, NTT Data will showcase its new object recognition technology, "Talking Beer," which can immediately identify beer and soda cans held up to its interactive digital signage technology and share detailed information about a person's favorite drink.
This year, world-renowned DJ Domo, created by NHK, will kick off Japan Factory at its opening party on Sunday, March 12, from 9:00 to 11:00 p.m. and close the three-day event by playing beats at Japan Factory's final party on Tuesday, March 14, from 9:00 to 11:00 p.m.
For more information on the full event lineup, please visit https://www.facebook.com/jpnfactorysince2017/.
About Japan Factory:
Japan Factory is an official SXSW 2017 event unveiling unique "All Japan" technologies and services born out of Japanese culture and philosophy, including robotics, AI and cyber teleportation (holograms). It is designed to be an ongoing project featuring prominent Japanese professionals from the interactive, music and film industries. At SXSW 2016, then called "Japan House," Japan Factory's event attracted over 4,000 visitors, among them investors, analysts, media, engineers, entrepreneurs and U.S. governmental officials. Japan Factory at SXSW 2017 will showcase the manifestations of a convergence of craftsmanship and technology — Japan's crown jewel — to achieve even higher global visibility.
Event Venue: Trinity Warehouse
Japan Factory Facebook: https://www.facebook.com/jpnfactorysince2017/
Japan Factory Twitter: https://twitter.com/japan_factory
About SXSW Interactive 2017
The 24th annual SXSW Interactive Festival returns to Austin from Friday March 10 through Tuesday March 14. An incubator of cutting-edge technologies and digital creativity, the 2017 event features five days of compelling presentations and panels from the brightest minds in emerging technology, scores of exciting networking events hosted by industry leaders and an unbeatable lineup of special programs showcasing the best new websites, video games and startup ideas the community has to offer. From hands-on training to big-picture analysis of the future, SXSW Interactive has become the place to discover the technology of tomorrow today. Join us in March 2017 for the sessions, the networking, the special events, the 20th Annual SXSW Interactive Innovation Awards, SXSW Accelerator®, the SXSW Gaming Expo, the SXSW Trade Show, SX Create, The Job Market, cross-industry conversations with attendees from SXSW Film and SXSW Music, and, most of all, the unforgettable inspirational experiences that only SXSW can deliver.
SXSW Interactive 2017 is sponsored by Esurance, Mazda, Monster Energy, Bud Light, Capital One, McDonald's, and The Austin Chronicle.
###