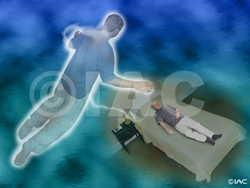 I appreciated the professionalism and integrity of the course instructors and enjoyed sharing the experience with the other participants. Ethel L.K. | Geneva, Switzerland
(PRWEB) March 20, 2017
This May, 2017, the International Academy of Consciousness (IAC) will be conducting eight experiments aimed at validating the Out-of-Body Experience as an objective phenomenon. The experiments, held in Miami, will be conducted in cooperation with an independent third-party scientific organization and will take place during IAC's Projective Field Workshop. The IAC aims to increase public awareness of research on parapsychic phenomena and also to help people to develop their skills in this area.
Within the IAC framework, the Out-of-Body Experience can be used as an important tool to help individuals see for themselves that they are more than the physical body, to overcome their limitations, expand self-knowledge, and even overcome the fear of death. Based on IAC's framework, anybody can learn to leave the body with lucidity, although some individuals are more adept at this from a young age. Additionally, certain universal factors and conditions ranging from physical to psychological and energetic play a role in a person's projective aptitude.
IAC's Projective Field Workshop offers participants an ideal environment to verify and validate their experiences in a controlled setting. These conditions are based on decades of research on factors that facilitate the Out-of-Body Experience and include a relaxed setting, lectures, films, and individually tailored instruction over a period of two and a half days. During the workshop, a target-object will be placed in a locked room so that those who leave their bodies can visit the room and see the hidden object. This will provide projectors with a possible confirmation of the authenticity of their experiences.
The International Academy of Consciousness (IAC) is committed to the investigation of consciousness, its capacity to manifest outside the physical body, and a comprehensive range of associated phenomena including the Out-of-Body Experience. IAC offers regular classes about these topics in 9 major cities around the world and events in 28 countries.
The Projective Field Workshop will take place at the Sheraton Miami Airport Hotel, Tuesday, May 23 to Thursday, May 25, 2017 and is open to the public. REGISTRATION is now open and additional information is available through iacworld.org by emailing Miami@iacworld.org, or by phone at 305-668-4668 in the USA. Registration fees include 2 nights of accommodation, meals, and all activities during the workshop. Results of the projective field study will be published in the Journal of Consciousness, IAC's main research publication.
To interview researchers or to find out more about the Projective Field Workshop, please contact Ashley Melidosian at 305-668-4668 or by email at Miami(at)iacworld(dot)org.