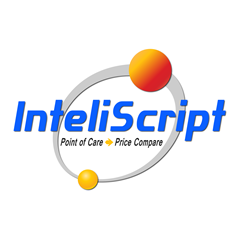 "Following over 2 years of software and systems development, there was no better venue or event to introduce and premier InteliScript's "Point-of-Care/Price Compare and Alternative Drug Solution for Payors" to the healthcare industry other than HIMSS17"
Las Vegas, Nevada (PRWEB) March 14, 2017
InteliScript, LLC, a world class healthcare technology and software development company, made its debut at the HIMSS 17 (Healthcare Information and Management Systems Society) Conference February 19-23, 2017.
InteliScript's proprietary and market disruptive software and processes integrate directly within the e-Prescribing workflow of EMR/EHR systems delivering "real-time drug pricing" and "real-time benefit check" capabilities to confront and reduce the rising costs of prescription medications realized by millions of Patients and Insurance Carriers/Payors. "Following over 2 years of software and systems development, there was no better venue or event to introduce and premier InteliScript's "Point-of-Care/Price Compare and Alternative Drug Solution for Payors" to the healthcare industry other than HIMSS17" said Thomas Borzilleri, InteliScript's acting CEO and inventor of its technology.
HIMSS hosts leading edge medical technology companies with over 45,000 medical professionals in attendance at this year's event. "Attending HIMSS17 was an extraordinary experience and the ideal place to debut our remarkable product. Response to InteliScript was overwhelmingly positive. Numerous EMR systems who reviewed the technology were astounded to how our product offers complete medication price transparency for both patients and providers without disruption to the HCP's workflow" said Nancy Hughes, InteliScript's Chief Business Development Officer.
InteliScript will be in attendance at a number of industry conferences scheduled throughout this year to continue their market rollout to further introduce and demonstrate its remarkable technology to the industry.
About InteliScript: InteliScript is a US based world class technology and software systems development company specializing in healthcare. InteliScript's technological capabilities unlock the power of data to drive better insights and results making them actionable while cutting through the complexity tapping the full potential of Big Data with ease. InteliScript uses data in new ways to improve processes that drive interactive success through more precise Patient data analytics and do it all with products architected for the healthcare industry-leading speed, efficiency and simplicity. Our systems master data, maximize data quality and integration, capture, transform and link structured and unstructured data from virtually any source or data repository – across the domains of physical, social, ecommerce, and mobile – to gain insight and drive more effective business decisions all in "real-time."
Contact & Press Inquiries: InteliScript, LLC
Nancy Hughes, Chief Business Development Officer
Email: nhughes(at)inteliscript(dot)com
PH: 858-877-0551
http://www.inteliscript.com
###