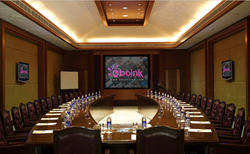 Bucharest Romania (PRWEB) March 12, 2017
Boink Live Streaming http://www.boinklive.com announced today it had trundled additional Artificial Intelligence for their new mobile application Bonk Live TM. Individuals who will be using the broadcasting application could earn hundreds of thousands of dollars, if not millions of dollars per year while streaming online.
Joe Bonica, one of the co-founders with Bonk Live TM said, "With the new era of social media money is flying around the Internet like never before. Our application potential is breathtaking because it will allow anyone using a mobile phone the ability to earn thousands of dollars per day using our application while Broadcasting live online over any ios or android mobile phone".
Bonk Live TM has developed a Global Mobile application where broadcasters earn money thru Six massive revenue sources while streaming their talents live. The Broadcasters earn money from Virtual Gifts, Pay Per Press Advertising, Bonk On Air Live Reads (BAR), Bonk On Air Advertising Video's (BOAA), Gold Coins (GC), Debit Card Loyalty rewards Points (DCLRP).
Americans who will be streaming on this new mobile application will have to pay income on what they receive. Many Mobile applications have not had to stop and think about the tax consequences of all these transactions because they don't pay their users to stream.
For example, you can stream on Facebook, Instagram, Periscope, and Snapchat but you will never receive any income from sending pictures or videos. Nor will you make money from liking or sharing a post. However, with the Bonk Live Tm new mobile application, you get paid every time you go online, even if you are only streaming or talking with your friends.
Boink Live streaming President, John Lamb, said, "The United States Internal Revenue Service always wants its cut so affective computing and reporting had to be incorporated into the system to pay Bonk Live TM Broadcasters. Moreover, every country is different so our application program interface had to be set up according to appropriate laws in applicable countries including up to the minute live currency converters".
Our system is set up in two ways to pay the Bonk live TM Broadcasters who stream. Individuals can either receive a debit card for the money they earn, which can also be used as a Mastercard. Or on the other hand, they can sign up for PayPal to receive their income payments. What is important is whether you are a streamer or donor; there are tax consequences for these transactions.
Boink Live Streaming SRL earns its money in a tax-free zone of Dubai so there is no income tax to the company. However Even though the words "virtual gifts " is used, while earning money by the broadcaster, they can't write off their Bonk Virtual Gifts that they redeem for cash. For the viewers who are giving gifts their taxes only kick in if they gift more than $14,000 to one person.
According to the American tax code, Bonk Live TM would not be required by law to give American Broadcasters a 1099-MISC because according to IRS rules: Payments made with a credit card or payment card and certain other types of payments, including third party network transactions, must be reported on Form 1099-K. The Bonk Live TM who is earning money will need to fill out a 1099-K for self-employment which can be reported on a Schedule C.
Bonk Live TM will also use a Form W-8BEN that is not filed with the I.R.S. It will be kept on file for all U.S. payments in case the U.S. payee is audited. If the individual is audited, the Form W-8BEN supports why no Form 1099 was issued and why no tax was withheld.
The social network has shifted to heavily favor video in recent years. Two years ago Silicon Valley firm updated its algorithms to rank videos directly uploaded to its network higher than other posts; the videos people chose to watch would "reach a larger audience".
Facebook isn't the only company betting big on video and live streaming. Twitter, which showed stagnation in its most recent financials, has signed a number of partnerships to broadcast live video and boost clips shown through its platform. It will be broadcasting NFL, NBA and NHL games, plus Premier League highlights in the UK. YouTube has now moved into streaming live 360 video
Facebook's own live offering was introduced on iOS and Android in March. The Wall Street Journal has reported the social media company has signed 140 contracts with video creators and media organizations, worth more than $50m (£37.7), to get them to use the live platform. http://www.wired.co.uk/article/facebook-live-video-ads
The Bonk Live Tm platform http://www.bonklive.com in comparison dwarfs the competition as it pays all the users on the Mobile application virtual gold coins that can be exchanged for real money. Viewers who interact with the advertising carousel via pay per push (PPP) allow the Broadcasters to get paid as they receive a percentage of the revenue earned from (PPP) during their broadcasting that was pre-sold by the company on the logo carousel.
The digital adds bureau stated that digital adds were hitting a landmark high of 32.7 Billion dollars while Mobile revenue in 2016 saw the largest year-over-year change, climbing to $15.5 billion, up 89% from $8.2 billion in HY 2015, representing 47% of total internet advertising revenue https://www.iab.com/news/digital-ad-revenues-grow-19-year-year-first-half-2016/
"These numbers demonstrate the growing importance of mobile, showing us the increasing demand for digital video and search, available anytime, anywhere, in the palm of your hand," said David Silverman, a partner at PwC US.
"Consumers' appetite to enjoy media—in particular, video and social media—on smartphones and tablets provides marketers with the opportunity to connect and interact with their customers while they are on the go, in a very personal environment," said David Doty, Executive Vice President and CMO, IAB.
Joshua Flynn a director for the Bonk Live and the acting Vice President of sales and marketing said, " Imagine the billions of people who have mobile phones. These people will compare Mobile applications and instantaneously change apps and bring their friends and fans to our new mobile application. The fact is we are the only application that gives a percentage of all the money earned by the company back to the streamers who broadcast. Bonk Live will pay every individual who uses the application while other major platforms won't. Bonk will pay any streamer to message friends, talk with friends, sharing live content, show live videos or commercials or simply read paid advertisements while streaming live. Not to mention getting paid from every viewer by Bonk Live for every person who presses on a particular advertising logo while viewing the live stream. Moreover, Josh said, it's simple to press one button and turn all their earned gold coins into cold hard cash and transfer it onto their personalized Bonk Live ASAP Mastercard and debit card".
Recently Nielsen wrote an article measuring the global Footprint for Mobile Campaign Measurements. An analysis of mobile campaigns in the U.S. from July 2014 to March 2015 found that mobile campaigns reached their intended audience 49% of the time, on average. Similarly, the on-target percentage of Canadian ads viewed on mobile during May 2015 was nearly the same as it was on desktop computers: 44% and 47%, respectively. http://www.nielsen.com/us/en/press-room/2015/nielsen-further-strengthens-global-footprint-for-mobile-campaign-measurement.html
Daniel Skulnick said, "Bonk Live Tm would be requesting the help from Nielsen Digital Ad Ratings to measure the audiences of its Bonk Live advertising carousel when it launches in April. The use of Digital Ad Ratings is an expansion of our current measurement offerings for shareholders as it will be our first venture into campaign rating measurement from an independent provider.
Nielsen Holdings, plc. is a global performance management company that provides a comprehensive understanding of what consumers watch and buy. Nielsen's Watch segment provides media and advertising clients with Total Audience measurement services for all devices on which content — video, audio, and text — is consumed. The Buy segment offers consumer packaged goods manufacturers and retailers the industry's only global view of retail performance measurement. By integrating information from its Watch and Buy segments and other data sources, Nielsen also provides its clients with analytics that help improve performance. Nielsen, an S&P 500 company, has operations in over 100 countries, covering more than 90% of the world's population.
Bonk Live Tm social media is all electronic and allows people to communicate and interact with each other using computers, smartphones, and the Internet. Bonk Live TM is set to be released on all android and apple application stores including Computers and Google play stores in April 2017.
This press release contains forward-looking information within the meaning of Section 27A of the Securities Act of the 1933 and Section 21E of the Securities Exchange Act of 1934 and is subject to the safe harbor created by those sections.