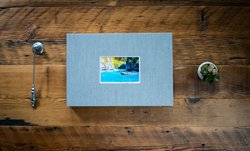 InMotion was born from a need to bring all of our favorite photos of videos together, so we can have the best of both worlds.
Dillon, Colorado (PRWEB) March 13, 2017
Today husband and wife duo Kristin and Lucas Miller of InMotion Albums launched an Indiegogo campaign for the first tangible photo album to seamlessly integrate digital and print memories into one experience. Albums are available starting at $199.
"Today, families have more photos and videos than ever, but they are scattered on devices, in the cloud, and in print," said InMotion Co-Founder Kristin Miller. "There was no single solution that existed to share, organize and preserve memories that was free of distractions."
The CES 2017 Digital Imaging Innovation Awards Honoree is a beautifully bound book that features high quality archival art paper and a built-in tablet that work in tandem. The touch-screen display is visible from every page, so users can view vivid prints alongside digital photos and video, even when offline.
The album's proprietary page detection technology links the book's physical pages with its digital pages and recognizes when they're turned. So, as a user flips through, they will experience a story they can touch, watch and hear.
"We all love the visual, tactile, and shareable quality of printed photos and photo books. But digital media has become just as important to our memory-keeping as classic photography." continued Kristin. "InMotion was born from a need to bring all of our favorite photos of videos together, so we can have the best of both worlds."
The digital library for each page is completely driven by the user with custom software. Users simply log in to the InMotion Albums website, then drag and drop digital images and videos into their desired sequence to sync a customized library for each page of the album.
"InMotion Album's utility goes beyond simple scrapbooking," said Co-Founder Lucas Miller. "From travel journals to family histories, portfolios, learning tools to personalized gifts, this product will change the way we think about photo books. A great example of how InMotion can be used is by professional photographers. Imagine being able to present wedding photography to a client in a way that can be truly re-lived. Vibrant prints alongside videos of the couple's vows or first dance will have a very powerful effect."
InMotion's campaign runs from February 28 - March 30, 2017. For a full rundown of the pledge levels visit their Indiegogo page. Media wishing to interview their personnel should contact PR agent, Jackson Wightman at +1 (514) 605-9255.