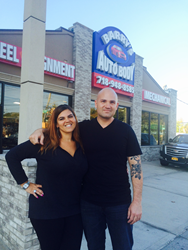 The "I Gotta Guy" series are educational videos where Donna is our hero, teaching her husband, Vito about automotive care and service.
Staten Island, New York (PRWEB) March 16, 2017
March is the month for celebrating women across America, but for Barry's Auto Body, women are celebrated each and every day. That's because Barry's Auto Body team is led by women. From co-owner, Michelle Crupi, to Jayne, the auto collision estimator and Kerry, insurance claims representative, women are the engine that drives Barry's Auto Body.
To celebrate "Women in History Month" Barry's Auto Body released the second in a series of humorous educational videos where Donna and her husband Vito, struggle with various auto repair problems. Vito always thinks that he has the situation under control until Donna rolls in to save the day with a strong hand and lots of common sense.
In the first installment of the "I Gotta Guy" series, we are introduced to married couple, Donna & Vito. Vito is a Ralph Cramden-esque character who yells and flails his arms when he learns that Donna had a car accident and didn't tell him. The bluster doesn't bother Donna in the least –instead she calmly tells him that she has a guy to fix the car and proves it when Barry comically appears on the scene.
The success of the first video prompted Barry and Michelle to film several more (which will be rolled out slowly throughout the year.
Said Barry Crupi, Co-owner of Barry's Auto Body with his sister Michelle, "We developed the "I Gotta Guy" video series because we wanted to educate our customers about how to handle different car repair problems. Much to Vito's chagrin, Donna is the hero of the series, always coming up with the solution to the seemingly difficult situation. We wrote the script so that the characters would mimic what we see in the shop almost every day. People who think that car repair is a man's world are living in the past. In today's world, women make most of the decisions about auto repair both in the shop and out of the shop."
The new video is titled, "You called who first?" It's a spoof on a popular commercial where a husband is talking to his insurance agent in the middle of the night, however, in this video, Donna knows that Vito is talking to the insurance company and she squarely and comically reprimands him for not calling Barry's Auto Body first. The point of the video is to let people know that they should know what repairs need to be done on the car ahead of filing their claim to ensure that the vehicle is repaired properly.
For Barry and Michelle, Donna is a character composite of their strong female clients and the women who lead the shop's repair team.
Donna is played by comedian Jen Remauro and Vito is played by George Passariello. Barry and Michelle play themselves. The video can be seen on the website at http://www.barrysautobody.com or on their YouTube