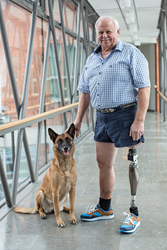 The other prosthesis ruled my life, it was my master in a way, it's inevitable…it affected my mood and my interest in doing things that I knew would demand an extra effort. You had to weigh the pros and cons and that's all gone now. Now it's actually me.
San Diego, California (PRWEB) March 13, 2017
Integrum has announced collaboration with Ottobock in the field of osseointegration.
The FDA has approved the OPRA (Osseoanchored Prostheses for the Rehabilitation of Amputees) Implant System from Swedish manufacturer Integrum for use in the USA. Integrum is partnering with Ottobock for distribution of prosthetic connection elements related to Integrum's OPRA implant system.
The OPRA implant system is an innovative technology aimed at helping improve the quality of life for amputees. Integrum announces this work as it provides hands-on demonstration clinics and supports clinical lectures at the 7th International Conference of the Orthopedic Surgical Osseointegration Society (OSOS) wrapping up today in San Diego, CA.
During osseointegration, an anchoring fixture is implanted in the patient's bone. The prosthetic can then be joined with the fixture via the OPRA Axor II adapter. This type of fitting comes into consideration when a conventional fitting with a socket is impossible for patients who have difficulties relating to the condition of their residual limb. These vital components for connecting prostheses to the OPRA implant system are available via Ottobock US as of today. Ottobock is also ready to support them with appropriate mechatronic prosthesis solutions. The Genium, X3 and C-Leg knee joints are suitable for combination with Integrum's OPRA System.
"Integrum is thrilled to collaborate with Ottobock, the market leader in prosthetics, to distribute Integrum's prosthetic components in the US," commented Jonas Bergman, Integrum's CEO. Bergman went on to say, "This is a major step forward in developing our presence in the US market and an excellent opportunity to reach and improve the quality of life for thousands of amputees in the US."
"Dr. Rickard Brånemark, Integrum's founder, is an absolute pioneer in the field of osseointegration. So we're delighted to be able to cooperate with such an innovative figure. As a technological leader, we are always interested in trend-setting ideas for providing fittings to people with restricted mobility," said Brad Ruhl, President of US HealthCare for Ottobock.
About Integrum
Integrum AB, is based outside of Gothenburg, Sweden with a US subsidiary in San Francisco, CA. Since 1990 osseointegration has been helping individuals with amputations towards an improved quality of life. A thorough experience in osseointegration has generated Integrum's system for bone-anchored prostheses – a beneficial alternative to the traditionally used socket prosthesis. Integrum is world leading in this area, with patients from all parts of the world treated in 12 clinical centers for over 400 surgeries. Integrum's OPRA technology was approved by the U.S. Food and Drug Administration (FDA) in 2015 for use in the US under a Humanitarian Use Device (HUD) designation which was reviewed through the Humanitarian Device Exemption (HDE) pathway. The OPRA technology is the only FDA approved technology for orthopedic osseointegration approved in the US. More information on the company and its innovative products for amputees can be found at http://www.integrum.se.
About Ottobock
Ottobock uses innovative technology, superior service, and world-class education to help people with physical mobility challenges. Established in 1919 in Germany, Ottobock opened its doors in the U.S. in 1958 and in Canada in 1978. Currently in its third generation as a privately held company, Ottobock offers products and services to help people maintain or regain their freedom of movement.  http://www.ottobockus.com