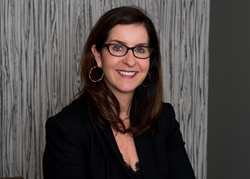 I am thrilled to join such a dynamic organization in this new role - Suzy Jacobs
Reston, VA (PRWEB) March 13, 2017
AALU announced today that Suzy Jacobs has joined the organization in the newly created position of Senior Vice President, Business Development & Marketing. In this role, Jacobs will be a member of the management team.
Jacobs brings a strong background in relationship management and product development to AALU. She is an expert at developing creative solutions to market challenges, and a noted speaker in the media industry. In her new role, Jacobs will lead AALU's corporate partnership and member relations departments, advancing the organization's mission to strengthen, grow, promote, and advocate for the life insurance community.
"With over 25 years of experience, Suzy is an incredible addition to the AALU team," said Marc Cadin, the association's Chief Operating Officer. "She will be a key leader in advancing our objective to align the distribution organizations so that we can more effectively advocate on behalf of our members' clients."
"I am thrilled to join such a dynamic organization in this new role," Jacobs echoed. "There is limitless opportunity to build relationships with both our members and corporate partners, and I couldn't be more honored to contribute to AALU's continued impact serving the noble profession of life insurance."
Prior to joining AALU, Jacobs was the publisher of Capitol File magazine. She oversaw the magazine's print, digital, and event sales and marketing functions, including leading development and expansion of its partnership platforms within the Washington, DC metropolitan area. Jacobs has blazed trails in multimedia convergence and has a track record of building sales teams and creating product offerings.
She is also very active in Washington's philanthropic community, serving on the Executive Committee of Ryan Kerrigan's Blitz for the Better Foundation, as well as the Redskins Welcome Luncheon. She has volunteered for the Nationals Dream Foundation gala and served on the board of directors for the National Capital Area chapter of the Alzheimer's Association for six years. Jacobs earned her Bachelor of Arts degree from Hobart & William Smith. 
ABOUT AALU
AALU is the leading organization of life insurance professionals who are a trusted voice on policy issues impacting Americans' financial security and retirement savings. Its members are leaders in the life insurance community. AALU's mission is to strengthen, grow, promote and advocate for the life insurance industry, ensuring a unified voice and a diverse membership. For more information, visit http://www.aalu.org.