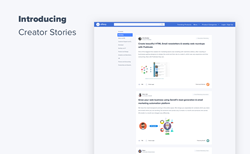 Through doing these interviews, we want to celebrate creators and also give buyers a better narrative and understanding for why they should use a software product
San Francisco, CA (PRWEB) March 13, 2017
Siftery, the B2B software community database company, today released Creator Stories, a series of interviews with founders and product creators where founders get to share about the problem they are solving, why, what makes them unique, typical or interesting use cases, as well as the tools and tips they use to build their product/company.
"Siftery is about connecting business users with the right software, and we recognize that behind every great product there's a team and a story. Through doing these interviews, we want to celebrate creators and also give buyers a better narrative and understanding for why they should use a software product," said Gerry Giacoman Colyer, Head of Growth at Siftery.
There are currently 40 stories published and the team is publishing at least one new one each day. Most of the interviews are conducted by Kevin William David, Community Lead at Siftery.
"Over the past few years, I have "hunted" over 1,200 products on Product Hunt. A majority of them B2B software  and these products have been "upvoted" almost 250,000 times," said Kevin. "I love doing this because I get to meet product creators and learn about their journeys. Siftery is a continuation of that."
About Siftery
Siftery tracks thousands of B2B software products and hundreds of thousands of companies that are using them. The company collects the data through a combination of programmatic fingerprinting, self-reporting from vendors, and tens of thousands of software buyers through Siftery.com. The Siftery community includes investors, analysts, software buyers and other decision-makers. The company raised a $4M seed round in 2016, and is headquartered in San Francisco.