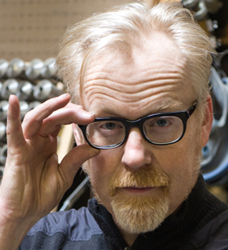 Boston, MA (PRWEB) March 14, 2017
The Fab Foundation is pleased to announce that, in collaboration with Chevron, we are hosting a visit to the Austin, Texas digital fabrication community by celebrity maker, Adam Savage.
This national tour with Adam celebrates the impact of digital fabrication and making in education and youth development, business and entrepreneurship, and invention. It includes diversity in people and place and seeks to expand a community's awareness of the power of new tools such as 3D Printing, laser cutting, CAD design and robotics. Additional tour cities include Pittsburgh, New Orleans, Detroit, and Boston.
Adam Savage is an internationally renowned television producer, special effects designer/fabricator, host, maker and public speaker. He is best known as the former co-host of the Discovery Channel television series Mythbusters. His model work has appeared in major films, including Star Wars: Episode II – Attack of the Clones and The Matrix Reloaded.
Adam's Austin visit will begin at SXSW Interactive, where he is hosting a panel on March 13 with Sonya Pryor-Jones of the Fab Foundation, and Andrew Coy, former Senior Advisor for the Office of Science and Technology Policy at The White House. They will discuss the future of maker spaces and the implications that these spaces can have on the future, Making Moving Forward.
The first stop for the national tour in Austin will be at Travis High School. During this visit, participants will engage in an inquiry activity designed to test the sensitivity and reliability of biometric fingerprint scanners, in particular an iPhone device. They will investigate the validity of several scanners including those that grant computer access. Tools incorporated into the methodology include 3D Printing. Adam will also tour the TRILab area of the school, which comprises a photography studio/art room, makerspace, and engineering shop, all of which enrich students' experience by creating experiential, hands-on learning.
Adam's afternoon will be spent interacting with the innovative staff at The Thinkery, an evolution of Austin Children's Museum. Sharing with Adam the creative process used from conception to design to the building of projects such as an Interactive Wall, a working session with staff will draw upon Adam's expertise. Thinkery's staff will tackle the challenges of certain exhibits with help from Adam's unique problem-solving and design skills.
Portions of Adam's Austin tour will be videotaped for a series he's producing for Tested.com. The series debuts March 13 with scenes from his Pittsburgh tour stop and airs each week through June 19th. The Fab Foundation's Chief Implementation Officer, Sonya Pryor-Jones, who organized the Adam Savage tour remarks that "we are thankful to Chevron for funding this unique opportunity and to Adam for using his platform to tour the country and showcase the Fab Lab and Maker communities. Adam's tour celebrates the ingenuity of people and shows future makers the possibilities in their own communities."
The Fab Foundation makes the tools of digital fabrication accessible to everyone, so that anyone of any skill level can make (almost) anything. To achieve this goal, the 501(c)3 non-profit organization fosters the development of fab labs in schools, higher education, libraries, museums community centers and innovation centers. There are now over 1,000 fab labs around the world in more than 78 countries.