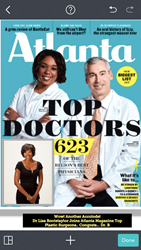 Finally women have their own "little blue pill."
Atlanta, Georgia (PRWEB) March 15, 2017
Being ranked as Top Doctor by Atlanta Magazine in 2016, Dr. Lisa Bootstaylor is taking her rank to higher heights by introducing her patients to a new non-surgical, in office, treatment called ThermiVa. Dr. Bootstaylor has been providing this treatment to her patients since October 2016.
As seen on "Keeping Up With The Kardashians" and "Doctors," ThermiVa is a new/trending non-surgical, in office treatment that rejuvenates the vagina and vulva without surgery. The treatment uses monopolor radio-frequency energy emitted from a probe to gently heat vaginal and labial tissue to stimulate and rejuvenate collagen. The tightening of the vaginal wall equates to a more youthful vagina, which gives people the reason to call it a vaginal face lift. ThermiVa's 2-3 treatments last no longer than 30-45 minutes, with results lasting a year.
Since introducing this procedure to her patients, many are excited about the treatment and informing the community of this "vaginal face lift." According to Dr. Bootstaylor, "this addition to my practice has provided the complete transformation for my clients' mind, body and soul!" Being the new trend for many women between the ages of 30-80 years old, ThermiVa is becoming an ultra-boost to women empowerment and orgasms. Finally, women have their own "little blue pill." If you're interested in receiving ThermiVa with Atlanta's "Top Doctor," Dr. Lisa Bootstaylor, contact her office today at 404-240-2804 or visit her website to learn more at http://www.plasticsurgery-atlanta.com/.
About Atlanta APC Plastic Surgery
Atlanta APC Plastic Surgery, under the direction of Lisa Bootstaylor, MD, focuses on large volume liposuction and body contouring, scar sparing breast surgery, revisionary aesthetic surgery, and a number of aesthetic procedures. Dr. Lisa Bootstaylor is a Board Certified Plastic Surgeon who received her plastic surgery training at the University of Pittsburgh and her fellowship training at the University of California at San Francisco. Dr. Bootstaylor training and clinical research experience, along with her years of experience, sets her, MD apart from the growing number of plastic and cosmetic surgeons offering plastic surgery. Atlanta APC Plastic Surgery serves the Greater Atlanta area as well as the national and international community. Address: 550 Peachtree Street, Suite 1480, Atlanta, GA 30308: (404) 240-2804.