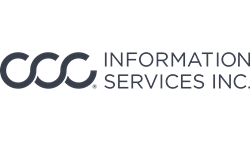 Chicago, IL (PRWEB) March 14, 2017
CCC Information Services Inc. ("CCC") announced today the availability of its 2017 Crash Course, an in-depth report that focuses on the trends and business drivers within the automotive collision industry. This year's report, "It's Happening," examines the vast technological and digital advancements being broadly embraced by consumers and incorporated into today's vehicles, and their impact on the automotive claims, collision repair, parts, casualty, and automotive manufacturing industries. Crash Course is compiled using research and information from a wide range of sources and an aggregated set of data from CCC's data warehouse, which includes approximately 180 million claims worth of information.
"In this year's report, we look at how rapidly changing technology is driving change for the consumer, the vehicle, the insurer, the repairer, the parts provider, and the manufacturer," said Susanna Gotsch, Lead Industry Analyst, CCC. "The growing number of digital connections being created means greater access to information. This information brings an even greater understanding of the end customer and creates operational transparency and insights into new risks and opportunities for the companies that serve them. We explore how many of these technologies are playing a key role throughout the automotive ecosystem, and how businesses are responding."
To explore these topics and their impact, several CCC subject matter experts have contributed to an expanded report. The Crash Course report also provides in-depth analysis on repair costs, telematics, casualty trends, and myriad other factors that contribute to the performance of the industry.
Download the 2017 Crash Course report.
About CCC Information Services Inc.
CCC brings together what matters most – connections into the industry's leading automotive claims network, superior productivity through innovative cloud, mobile, hyperscale technologies and apps, and insights to make the best decisions. Founded in 1980, CCC is the nation's leading provider of advanced software, workflow tools, and enabling technologies to automotive collision repairers, property/casualty insurance carriers, OE manufacturers, and part suppliers. Its client base includes more than 350 insurance companies and more than 22,000 repair facilities. In addition, the CCC TRUE® Parts Network connects hundreds of parts suppliers with repairers; the CCC DRIVE™ open telematics platform enables insurers and OEs to create and deploy custom telematics solutions; and Auto Injury Solutions, a CCC company, delivers customizable, end-to-end, casualty insurance solutions for the handling of first and third party claims. You can find out more about CCC and Auto Injury Solutions by visiting http://www.cccis.com, and http://www.aisreview.com.