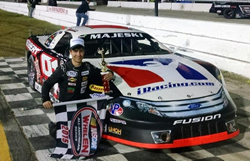 we're really excited about his prospects for 2017 and for many years to come
Bedford, MA (PRWEB) March 14, 2017
iRacing.com today announced it will sponsor emerging star Ty Majeski in twenty-five Late Model races during the coming season. This will be the third consecutive year the popular online racing simulation service has backed Majeski, the highest-rated driver on iRacing and a three time ARCA Midwest Tour champion.
The 22 year-old Majeski recently joined Roush Fenway Racing as a development driver and, in addition to competing in selected ARCA events, is expected to make his NASCAR Xfinity Series debut with Roush Fenway in June at Iowa Speedway.
"We're thrilled to continue our association with Ty," says Tony Gardner, President of iRacing.com. "It's been gratifying to work with him as he's moved up the racing ladder, and we're really excited about his prospects for 2017 and for many years to come."
"It's great to be back with iRacing again," says Majeski, a native of Seymour, WI. "Not just the company but iRacers all across America and around the world have been hugely supportive of my efforts over the years. We've been fortunate enough to drive the iRacing Late Model into Victory Lane a number of times the last couple of years and I'm looking forward to making plenty of return visits in 2017."
To learn more about iRacing and to take advantage of special offers go here: iRacing.com
About iRacing.com
The world leader in the online racing simulation and gaming market, iRacing was founded in 2004 by Dave Kaemmer and John Henry. Kaemmer was co-founder of Papyrus Design Group, developers of award-winning racing simulations including "Grand Prix Legends" and NASCAR 2003." Henry is principal owner of the Boston Red Sox and Liverpool Football Club, as well as co-owner of NASCAR's Roush Fenway Racing. iRacing.com has developed dozens of formal partnerships in the motorsport industry to help create the most authentic racing simulation in the world including with NASCAR, IndyCar, International Speedway Corporation, Speedway Motorsports, IMSA, the SRO Motorsports Group, Mazda Motorsports, McLaren Racing, Williams F1, Audi, BMW, Ferrari, Ford, Mercedes-Benz, Porsche, Volkswagen, the Skip Barber Racing School and General Motors.