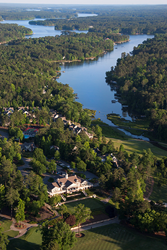 Lake Oconee, Ga. (PRWEB) March 14, 2017
Harbor Club on Lake Oconee, the embracing lake and golf community, has been selected a new member of the Southern Living Inspired Communities, a unique collection of residential developments featuring members across five Southern states (Florida, Georgia, North Carolina, South Carolina and Tennessee) that exemplify the Southern Living lifestyle.
Hand-picked by the magazine's editors, Southern Living Inspired Communities are neighborhoods marked by charm, taste, and Southern spirit that embody a distinctive pride of place. They embrace the natural beauty of the Southern landscape, display the best of Southern Living inspired architecture and contain environments that foster communal gatherings.
"We are extremely proud of Harbor Club's designation as a member of Southern Living's Inspired Communities," said Harbor Club General Manager Brandon Matney. "Our goal at Harbor Club has always been to espouse the extraordinary virtues, culture and sense of home common only to the South. With the addition of Patriot Builders, our in-house homebuilding company, we will continue our tradition of providing Southern Living style homes."
The long-term vision is to bring the Southern Living brand to life at Harbor Club in a unique, differentiated way by offering consumers a complete Southern Living experience, including the option of attending Southern Living branded events, such as on-site classes in cooking, interior design, organic gardening and landscape design.
"Southern Living Inspired Communities shows our pride of place in bricks and mortar," said Southern Living Editor in Chief Sid Evans. "The program builds on our legacy of Southern style and brings to life the timeless design principles we advocate and celebrate through multimedia content. We're proud to offer a new level of consumer service that will radically simplify the process of finding the perfect home in the best neighborhood."
This initiative is the culmination of nearly 50 years of Southern Living's experience in the homes category. In addition to covering homes across the South for decades, the brand sells a successful line of branded House Plans designed by the South's top architects. It has created a hand-selected group of trusted builders with its Southern Living Custom Home Builder program and has worked with the South's top talent to build Idea Houses across the region.
For more information, go to: http://www.southernlivinginspiredcommunities.com. And for more information on real estate and club membership opportunities at Harbor Club call 706-453-7855 or visit http://www.harborclub.com.
About Harbor Club on Lake Oconee. Harbor Club is a family-owned, 1,000-acre golf and lake community located an hour east of Atlanta and framed by nine miles of pristine shoreline along Georgia's Lake Oconee. Harbor Club ownership continues to invest in the neighborhood and its future by recently devoting millions towards capital enhancements, including an expansive fitness, recreation and special event campus called The Grove, a sparkling new marina amenity, renovated clubhouse and the award-winning golf course. Additional amenities at Harbor Club include an expansive Swim & Tennis Center and a 15,000 sq. ft. clubhouse with golf shop, and dining room. Harbor Club has partnered with Atlanta-based The Marketing Directors, LLC to form Harbor Club Properties, an onsite sales and marketing team. 706-453-7855 or http://www.harborclub.com.
About Southern Living Southern Living celebrates the essence of life in the South, covering the best in Southern food, home, garden, and travel. Reaching more than 16 million people each month, Southern Living connects consumers with the region's rich culture through a variety of print, digital, mobile, tablet and event platforms. Headquartered in Birmingham, Ala., the rapidly expanding Southern Living brand is part of Time Inc., one of the largest content companies in the world and the largest publisher in the U.S.
###