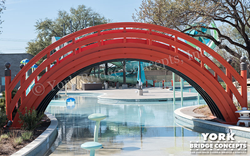 Most companies claim to be experts at what they do, but York Bridge is the one company that follows through on their promises. York Bridge showed true commitment to what they do!
Dallas, TX (PRWEB) March 14, 2017
Structure and art collide in this masterpiece of design - Hilton Anatole's newest gems - recently completed by York Bridge Concepts™. The design & build of three unique structures at the Hilton Anatole Resort Hotel located in Dallas, Texas was commissioned by T&G Constructors for the hotel with the largest art collection in the United States. With over 1,000 exotic items sourced from all over the world – the Hilton Anatole is an exciting destination for residents and guests of the Dallas area. The resort is also home to a vast Southeast Asian collection including wall tapestries, elephant sculptures and jade displayed in cabinets throughout the hotel. Fusing these concepts together, York Bridge embarked on a path to design and build one-of-a-kind structures never before encountered at a resort destination.
The first of its kind, YBC's ornamental 'Moon' Bridge was influenced by a historic bridge design originating in China. A statement piece, this creation is not intended for pedestrian or vehicle traffic. The Moon Bridge spans 6 feet wide by 30 feet long, spanning across the Lazy River located inside the JadeWaters at the Hilton Anatole hotel. Neighboring this structure, YBC has built two other Pedestrian Bridges – the 'Access' Bridge and the 'Service' Bridge. The Access Bridge is a multiple span bridge with 85 pounds per square foot capacity that spans 10 feet wide by 104 feet long. The Service Bridge is 8 feet wide by 37 feet long free span structure spanning over the pools, featuring 10 steps on each side and a high point in the center of the bridge. These structures are integrated into the JadeWaters Lazy River – highlighting the park's amenities and features. Combining impeccable design, aesthetics and longevity – York Bridge brought this Asian-inspired concept to reality.
Utilizing its Decero™ Design philosophy, these bridges were designed & built completely from scratch – featuring a stunning color palette of lush reds and greens that adhere to the unique theme of the hotel while complimenting each other seamlessly. "Everyone is enjoying the bridges inside JadeWaters, the new resort style pool complex at the Hilton Anatole Hotel in Dallas, Texas! Most companies claim to be experts at what they do, but York Bridge is the one company that follows through on their promises. York Bridge showed true commitment to what they do!" confirms Brett Krafft, Hotel Manager of Hilton Anatole. These York structures deliver a true testament to YBC's Decero™ Design Philosophy which differentiates them from their competition through the creative direction and vision that YBC has elevated throughout their 32-year history. YBC is honored to leave behind these legacy bridges that will be enjoyed for years to come.
About York Bridge Concepts™
York Bridge Concepts, Inc. (YBC) is the nation's largest on-site timber vehicular bridge builder. YBC works with industry-leading owners and developers on prestigious projects throughout the U.S. and internationally, creating more than just a solution for crossing lakes, streams, creeks, wetlands or ravines. In this competitive real estate market, developers who want to ensure that their project stands apart from the competition use York Bridges to add value and create a feeling of exclusivity, warmth, and quality for their customers. Based in Lutz, Florida, with 32 years of experience, YBC has become well-known for their expertise and cutting-edge innovation in the Longevity and Architectural beauty of timber bridge design.
For more information, contact Gil York at (800) 226-4178 ext. 109 or visit http://www.ybc.com.