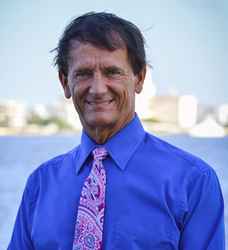 West Palm Beach, FL (PRWEB) March 13, 2017
Patients who desire to have white, straight teeth are now welcome to receive porcelain veneers from Dr. Roy C. Blake III, with or without a referral. Dr. Blake is a highly experienced prosthodontist in West Palm Beach, FL, who is a member of the American Dental Association and the American College of Prosthodontics. In addition to offering experienced, custom veneer placement, he has several other areas of expertise, including maxillofacial prosthesis, dental implant restorations and full mouth reconstruction.
In a recent study by Kelton Global, many adults reported that they were concerned their smile could be affecting their personal and professional relationships. Respondents even rated those with straight teeth as being 45 percent more likely to be hired for a job than those with crooked teeth.
While traditional braces and teeth whitening procedures can help create an ideal smile, they can take time (sometimes years), and may cause some initial discomfort. Patients who wish to improve their smiles in as little time as possible are invited to meet with Dr. Blake, an experienced prosthodontist in West Palm Beach, FL, and find out if they are good candidates for attractive porcelain veneers. Dr. Blake creates personalized veneers for each patient in order to provide the best fit and the most natural appearance possible.
Veneers are a convenient and affordable treatment option for those with crooked or stained teeth as well as chips in their teeth or noticeable tooth gaps. Without spending months or years undergoing expensive orthodontic and cosmetic treatments, veneers can be customized and placed in minimal time. Veneers are made from thin porcelain that is bonded to the surface of the teeth; they look and feel just like natural teeth. They are stain resistant and typically last up to seven years before replacement is needed.
Dr. Blake encourages patients with crooked and stained teeth to see how quickly porcelain veneers can give them straight teeth and an attractive smile. Appointments with the respected prosthodontist in West Palm Beach, FL, can be reserved by calling his practice at 561-296-3399.
About the Doctor
Dr. Roy C. Blake III is an experienced prosthodontist who has been offering personalized dental care to patients in Jupiter and West Palm Beach, Florida for over 30 years. Dr. Blake is a certified maxillofacial prosthodontist who offers specialized treatment in single and multiple dental implant placements and full mouth reconstructions, among other services. Dr. Blake and his entire team value attention to detail and understanding each patient's unique needs in order to offer a truly customized dental experience. To learn more about Dr. Blake or the services he offers, visit his website at http://www.royblakedds.com or call (561) 296-3399 to schedule a consultation.