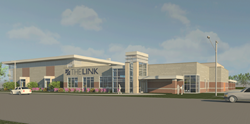 budget4cast is a great tool for project management. I can manage the total project budget or combine project budgets into a program while customizing the content to meet each of my individual client's needs.
Denver, CO (PRWEB) March 15, 2017
This week, just five months since its launch, SaaS budgeting software budget4cast™ added its latest user, pushing it over the $1 Billion mark in construction projects utilizing its groundbreaking budget management system. The latest projects to adopt budget4cast™ are a part of a $248 Million school district bond program, for the 27J School District, located northeast of Denver, Colorado. This program joins the many clients with municipal facilities, hotels, senior living centers, and office buildings across the United States that are utilizing the system's collaborative platform to ensure both budget accuracy and transparency during the life of their new construction or renovation efforts.
budget4cast™ was launched by a seasoned Owner's Representative after his tenure in the project management industry left him unsatisfied with existing tools and processes available for this important aspect of the construction and development industry. The cloud-based platform is offered at a far lower cost than many robust construction management software options that are often a better fit for the General Contractor than the owner or owner's representative, and it offers far more effective linking and calculation functionality than the baseline Microsoft Excel process often utilized by project Owners.
One early adopter of the budget4cast platform has been global real estate development powerhouse CBRE. As the company celebrates this major milestone, Senior Project Manager Donovan Nolan said, "budget4cast™ has been a great tool to improve our project management work. It has enough information to help us manage a total budget as well as a total program without having to get into the weeds with information that our clients and project partners are not looking for."
Founder Bryan Carruthers cites the strong referral network and the passion of the system's early adopters for this rapid product acceleration, "Clients such as school districts, municipalities, and real estate developers, with projects ranging in size from one million dollars to programs over $240 Million in scale, have all discovered budget4cast™ through the specific referral of some of our very first users. This has certainly confirmed our first hand knowledge about how hungry the market was for a new solution for the often complicated budget management process."
According to the 2016 Pricewaterhouse Coopers Capital Project and Infrastructure Spending Outlook, total global infrastructure investment between 2015 and 2020 could total to US $28.8 trillion, and with this level of spending, capital project budget management will clearly garner market demand for a long time to come. When combined with the technological revolution transpiring across business sectors today, this tool is well-timed for continued adoption across this robust industry.