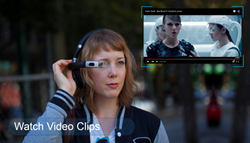 "The ORA-X will do to headphones what MTV did to radio," says Kayvan Mirza, CEO and Co-Founder of Optinvent. "Not only can you hear music, but you can 'see music.'"
Austin, Texas (PRWEB) March 13, 2017
Optinvent presents the ORA-X at the South By South West conference. Targeting music lovers on the go, the ORA-X is a brand new category, an Android powered smart AR headphone. The ORA-X blends a stylish headphone with high quality audio sound, a standalone Android computer, and a disruptive see-through retinal projection technology.
The ORA-X enables a brand new mobile entertainment experience: not only hearing music, but 'seeing music.' The ORA-X will allow never before seen mobile entertainment applications such as watching music videos, mobile gaming, AR, and much more. It will take headphones to the next level!
See Video Here: http:// https://youtu.be/E2ioouhqqTs
Traditional headphones enable mobile audio but their functionality hasn't evolved much beyond that for the past 30 years. The ORA-X takes this to another level this experience by adding vision and computing. This is a new user experience and this revolutionary device could mean the end of the "regular" headset. The ORA-X is the future of headphones. ORA-X: Hear, See, Enjoy!
Contact:
Kayvan Mirza
kayvan.mirza(at)optinvent(dot)com
+33 683150213
+44 7452012703