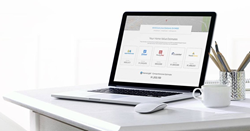 HomeLight's new Home Value Estimator will provide sellers with more data at their fingertips than any other tool of its kind.
San Francisco, CA (PRWEB) March 15, 2017
HomeLight, the leading marketplace for finding real estate professionals, has launched a new way to find out what a home is worth. The free "Home Value Estimator" tool is the world's first service that compares home value estimates across leading valuation models.
In an effort to improve the accuracy of online home valuations, the HomeLight Home Value Estimator pulls data from five leading online estimators and uses a proprietary algorithm to instantly determine the most predictive value for almost any residential address in the United States. For further transparency, the estimator also provides a meter that assesses the accuracy of HomeLight's value and suggests a confidence level of high, medium, or low.
Most online home value estimate tools have a median error rate of 7-9%. HomeLight's Home Value Estimator is the first product to attempt to reduce this high error rate by adding an additional layer of calculations and comparing estimates across five unique models. It was built to reflect HomeLight's core belief - that data and transparency can be used to drive better real estate transactions.
Building on the concept of using data to analyze and match home sellers and buyers with only the top real estate agents in their area--the Home Value Estimator provides preliminary information for both homeowners and prospective buyers before they meet with a top real estate agent in their area.
"HomeLight is the place where people come to find a top agent and start their home selling process," says Drew Uher, HomeLight founder and CEO. "An important aspect of getting the most out of your home sale is deeply understanding its worth, and our new Home Value Estimator will provide sellers with more data at their fingertips than any other tool of its kind."
The service also presents the option for home sellers to connect with a top real estate agent near the property's address for an easy and cohesive experience. Uher further notes that while the comparison aspect of the Home Value Estimator is powerful, "the next step to getting an accurate fair market valuation for selling your home is to speak with a top real estate agent in your area."
The HomeLight Home Value Estimator is a free service and is available online now.
About HomeLight
HomeLight is the smarter way to find a real estate agent. HomeLight's algorithm uses real transaction data and is proven to match buyers and sellers with the best real estate agent in their area. These data-driven matches are unmodified, objective recommendations that accurately reflect past performance and success. HomeLight is based in San Francisco and operates nationwide. HomeLight is backed by Google Ventures, Zeev Ventures, Bullpen Capital, Crosslink Capital, Krillion Ventures, 500 Startups, Montage Ventures, and more. Learn more at HomeLight.com.