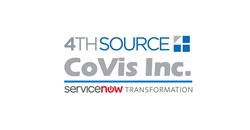 Organizations of all sizes are faced with transforming their IT operating model from a monolithic, product-oriented model to an agile, services-oriented model. Our partnership will help customers navigate and execute a truer course
Tampa, Florida (PRWEB) March 14, 2017
4th Source, a leading IT Services company and CoVis, an As-A-Service business transformation software company, have announced a partnership to dramatically accelerate ServiceNow implementations and reduce change risks. The full-service, integrated offering will help customers transform the IT services operating model to yield the maximum return on investment.
As a software tool, ServiceNow enables organizations to better manage services. But it does not unto itself define those services or governance process. As such, ServiceNow customers face significant challenges with implementing a solution that best serves their specific business and operational needs.
"We work with customers' teams to mature the operating model at a digestible pace. Our partnership gives us the ability to deliver a comprehensive framework that mitigates deployment risks and supports the adoption of a services operating model through structured roadmaps and IT services." - Chris Desautelle, President & CFO, 4th Source
"Organizations of all sizes are faced with transforming their IT operating model from a monolithic, product-oriented model to an agile, services-oriented model across technology practices. Our partnership will help customers navigate and execute a truer course." - Andrew Padova, Co-Founder & Managing Director, CoVis
4th Source brings a wealth of digital offerings including full-stack development, mobility services, and data services, while CoVis' platform enables a more effective execution of strategic and operational transformation through its catalog of playbooks and collaborative decision-making software solutions.
The Partnership will combine a robust framework for determining the right operating model fit, with a digital offering including full-stack development, mobility services, and data services that will:

Accelerate growth and innovation by up to 30%
Drive organizational cost savings and efficiency gains in the tens of millions of dollars
Reduce portfolio costs by 25% to 50%
Reduce strategic investment risks by up to 50%
About 4th Source
4th Source delivers powerful, cost-effective IT services as an alternative to offshore outsourcing. Headquartered in Tampa, FL, 4th Source employs over 500 people who help performance-driven businesses with IT, process services, data services, and application development. The hybrid nearshore-onshore model offers convenient proximity, efficiency gains, and significant cost savings.
4th Source has been recognized by Inc. magazine as one of the 5000 fastest growing companies in America six times.
About CoVis
In today's culture, businesses require the ability to respond to a rapidly changing and an ever increasingly complex business environment. CoVis' As-A-Service Business Framework Software solution embodies over 25 years of industry leading experience in operationalizing business frameworks in the support of transformation practices. CoVis' solution enables a repeatable platform and capability to define, analyze, measure, and visualize the impacts of overt and hidden business complexity to give the organization newfound agility and financial performance.