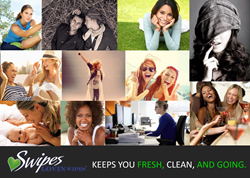 Most wipes often include questionable ingredients, I wanted a feminine wipe that is all-natural, eco-friendly, and easily flushable.
Lake Worth, Florida (PRWEB) March 30, 2017
The feminine wipes company expands distribution into national retailers, opening doors for more women to use sustainable, all natural wipes for their private moments.
Vera Lund and her husband Anthony Scott developed Swipes Lovin Wipes® after learning that the product of her dreams did not exist yet "Most wipes often include questionable ingredients, I wanted a feminine wipe that is all-natural, eco-friendly, and easily flushable," Vera says.
Ms. Lund, a licensed esthetician and massage therapist with a degree in Health and Science is the Company's CEO. Her husband Anthony Scott serves as the Company's COO. Vera and Anthony created Swipes Lovin Wipes as biodegradable, compostable, free of alcohol, chlorine and dyes, and used pure water and tree pulp as its main ingredients. They insisted on developing the product in the U.S. and got it certified by the Women's Business Enterprise National Council (WBENC), a Cruelty Free Company by Leaping Bunny, got it listed as a Compassionate Company through PETA, a member of the Hispanic Chamber of Commerce and a member of the U.S. Green Chamber.
The first retailer to add the product on its shelves was Walgreens, followed by Whole Foods (regionally), Walmart and Target. Whole Foods since expanded to national distribution in more locations as their leading in product sales due to its sustainability conscious shoppers.
"Being the only wipe product in the Family Planning category of retail stores and having placement on the top shelf of the category next to nationally recognized brand items so quickly is positively overwhelming. When your only challenge as a company is to keep up with supplying the demand, you know you're doing something right." Says Anthony.
Swipes are currently the only wipes shelved in the Family Planning section of retail stores, separated form other wipes products.
This month Swipes, Inc. added to its team a top marketing & branding executive as their VP of Marketing. Limor Ben Ari (Windt), an industry veteran who worked with fortune 500 brands and retailers, and was the VP of Marketing for TV shows on Lifetime Television, including The Suzanne Somers Show. Limor brings insights into marketing to women and presenting national brands, and explains; "It's the first time I had the opportunity to join a brand that already received national attention through retailers before having the chance to even build a national brand. The secret Swipes discovered through its fast growth is simple: Women make over 80% of the purchasing decisions. When you create a product that women need, want and love, you got into their heart. Now all we need to do is continue to deliver on the loyalty and trust they have in us."
Swipes Lovin Wipes can be found at select Target, Walgreens, Walmart and Whole Foods across the nation as well as on Amazon.com. To find a store near you visit: http://www.swipes.com/#location
**
About Swipes, Inc;
Swipes Inc. the developer and distributor of Swipes Lovin Wipes®, hygienic feminine wipes designed for use before and after intimate moments.
Swipes are Flushable & Dispersible. All Natural & Eco-Friendly. Biodegradable & Compostable. Free of alcohol, chlorine & dyes. Sewer & Septic Safe. Made from tree pulp with Pure Water. Cruelty free product, Leaping Bunny certified.