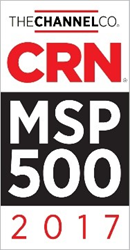 We pride ourselves on our customers' success, which is why we have worked so hard to over-deliver on our commitments.
BOCA RATON/FORT LAUDERDALE/MIAMI, FLORIDA (PRWEB) March 14, 2017
CloudHesive, an Amazon Web Services Advanced Consulting and Managed Services Partner announced today that CRN®, a brand of The Channel Company, has named it to the 2017 Managed Service Provider (MSP) 500 list in the Managed Security 100 category. This annual list recognizes North American solution providers with innovative approaches to delivering managed services. Their offerings help companies navigate the complex and ever-changing landscape of IT, improve operational efficiencies, and maximize their return on IT investments.
In today's fast-paced business environments, MSPs play an important role in helping companies leverage new technologies without straining their budgets or losing focus on their core business. CRN's MSP 500 list shines a light on the most forward-thinking and innovative of these key organizations.
CloudHesive, a SOC2 audited AWS Partner headquartered in the Miami / Fort Lauderdale area, is a new breed of cloud services provider that facilitates cost-effective, highly scalable, and secure cloud solutions. They also have a managed security practice that helps to increase the security posture of their customer's deployments in the cloud.
The CloudHesive team helps companies deploy mission-critical workloads onto a reliable platform to reduce operating costs, increase productivity and strengthen security—while meeting controls sets for FedRAMP, PCI, SOC2 or HIPAA. By partnering with some of the most notable cloud infrastructure companies, CloudHesive wraps traditional cloud offerings (public, private or hybrid) with cloud-centric security controls, such as data at rest encryption, Docker container encryption, endpoint security, intrusion detection, log management, vulnerability management, and continuous monitoring throughout the environment lifecycle.
"Our team is customer-focused so it's great to be recognized as a managed security service provider that is helping deliver and manage secure cloud solutions," CEO of CloudHesive Jim Walker said. "We pride ourselves on our customers' success, which is why we have worked so hard to over deliver on our commitments."
CloudHesive also helps build security best practices into the application development process so that security controls are maintained throughout a customers Continuous Integration, Continuous Deployment and Configuration Management lifecycles.
"Managed service providers play an increasingly important role in the day-to-day operations of businesses across North America," said Robert Faletra, CEO of The Channel Company. "MSPs help organizations streamline their spending, effectively allocate limited resources, and benefit from advanced expertise in the latest technologies. We congratulate the service providers on CRN's 2017 MSP500 list, who have continually succeeded in meeting their customers' changing needs and help them get the most out of their IT investments."
The MSP500 list is featured in the February 2017 issue of CRN and online at http://www.CRN.com/msp500.
About CloudHesive:
CloudHesive is an Amazon Web Services (AWS) Advanced Consulting Partner and Managed Services Partner headquartered in Miami / Fort Lauderdale, Florida. They are a cloud solutions consulting, DevOps, managed security, and cloud managed services provider with a focus on security, reliability, availability, and scalability. CloudHesive services help companies reduce their operating costs and increase productivity while improving their cloud security posture by migrating and securing mission-critical workloads on to Amazon Web Service (AWS) and other cloud partners. CloudHesive partners with the leading cloud providers and security companies to build highly secured, scalable and robust cloud solutions. They architect and manage environments to meet stringent uptime SLAs of up to 99.99%. CloudHesive also offers proprietary tools such as CloudPoxee to help their customers decrease and manage their cloud costs. For more information about CloudHesive, please visit http://www.CloudHesive.com.
About the Channel Company:
The Channel Company enables breakthrough IT channel performance with our dominant media, engaging events, expert consulting and education, and innovative marketing services and platforms. As the channel catalyst, we connect and empower technology suppliers, solution providers and end users. Backed by more than 30 years of unequaled channel experience, we draw from our deep knowledge to envision innovative new solutions for ever-evolving challenges in the technology marketplace. http://www.thechannelco.com
Copyright ©2016. The Channel Company, LLC. CRN is a registered trademark of The Channel Company, LLC. All rights reserved.