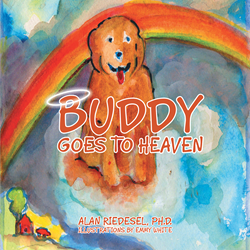 MAYVILLE, N.Y. (PRWEB) March 27, 2017
Losing a pet, especially at a young age, can be devastating. For parents going through the grieving process, it can be difficult to find the right words to say to help comfort their children. Fortunately, Alan Riedesel, has shed light on how to approach this subject in his new book, "Buddy Goes to Heaven."
'Heaven' follows one family as they cope with the declining health of their beloved dog, Buddy, leading to his death. Riedesel incorporates the importance of family relationships, as the book focuses on the parents comforting their children during this difficult time. Unsure of how to handle this tragic situation, the mother calls a local pastor to seek guidance when addressing this topic with his children.
From there, the parents explain to their children that, if one believes, all dogs go to heaven. After personally dealing with this experience, Riedesel wanted to help children through the grieving process.
"I wrote "Buddy Goes to Heaven" because I wanted any child who was facing the loss of a pet to be able to pick up the book and feel reassured that their pet was in heaven," said Riedesel. "As a father of five children, I have had to deal with the loss of pets.
Accompany each passage are beautiful illustrations created by artist Emmy White. At the end of the book, readers will see a section titled "Talking with Children," which contains talking points parents can use when beginning the conversation about the death of a pet.
"I wish this had been available when my young children were experiencing the loss of our pets," a reviewer wrote in a five-start review of "Buddy Goes to Heaven." "This is an excellent way for parents to be able to start a conversation with their children."
Acknowledging that losing a pet is one of the most traumatic experiences a child can go through, Riedesel hopes 'Heaven' will aide in the healing process.
"Buddy Goes to Heaven"
By Alan Riedesel
ISBN: 978-1-51275-884-9 (softcover); 978-1-51275-886-6 (electronic)
Available at WestBow Press, Amazon and Barnes & Noble
About the author
Alan Riedesel is a former university professor currently living in Mayville, NY. He was written more than 25 books for children, parents and teachers alike. Riedesel as affiliated with AARP, Cornell College Alumni, U of Iowa Alumni and the Roger Torrey Peterson Foundation. He has five children and six grandchildren.
Review Copies & Interview Requests:
LAVIDGE – Phoenix
Chris Peña
480-998-2600 x 519
cpena(at)lavidge(dot)com
General Inquiries:
LAVIDGE – Phoenix
Bryan Beach
480-998-2600 x 510
bbeach(at)lavidge(dot)com